MLF Chapter & Verse
The Manchester Literature Festival Blog
Review: Margaret Atwood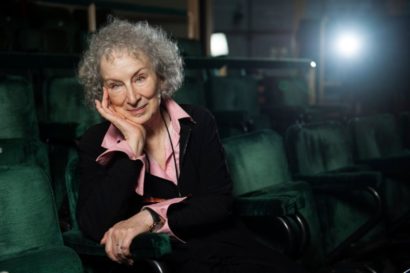 "Revisiting the play as a modern novel was one of those things that sounded like a good idea at first, before you found out it was going to be harder than you thought." Our blogger Emily Morris was delighted by Margaret Atwood's novel, personality and rap.
Margaret Atwood is many things: amazing author, brilliant poet and a total feminist icon. I never had her down as a goalie though. Or a rapper.
I'm in a packed-out RNCM on the first day of Manchester Literature Festival to hear Atwood talk to Alex Clark about her latest novel, Hag-Seed. The space is vast and Clark and Atwood are way over there in the distance, but as they chat and laugh in their matching armchairs, we all feel part of the conversation. And what a conversation it is. The pair begin by joking about the things they've been discussing before the event, including a YouTube video of Atwood being an ice hockey goalie (which you can watch here.)
With ice hockey talk done, it's time to move on to the book. Hag-Seed is a retelling of The Tempest, the fourth in the Hogarth Shakespeare series. As one of the first authors to be approached by Hogarth and asked to re-write one of The Bard's plays, Atwood had the pick of the bunch, so what made her choose The Tempest?
"The Tempest is the closest Shakespeare ever comes to writing a play about what he did – putting on plays," says Atwood.
The instructions were simple: revisit the play as a modern novel. But how do you go about that when the one you've chosen is all goblins, magic and illusion?
"It was one of those things that sounded like a good idea at first, before you found out it was going to be harder than you thought," admits Atwood, "like the goalie video."
Still, Atwood pulled it off (of course she did). Felix Phillips is overthrown from his job as a theatre director by traitorous friends. He runs away to the sticks, assumes a pseudonym and gets himself a job delivering the 'Literacy Through Literature' programme with medium-security inmates in Fletcher Correctional Institute. Over the years, Felix has put on a number of successful Shakespeare plays with the inmates. Now, the men who ousted him from his beloved job have made it in politics and are due to visit Fletcher Correctional. Time, Felix decides, to put on The Tempest…
Hag-Seed deals beautifully with grief, revenge and loneliness. It's meta in that there are two layers of The Tempest to be found (in both Felix's reality and the play he puts on in the prison), but, as Atwood puts it: "Shakespeare often doubles."
Next, Atwood treats us to an unforgettable reading from Hag-Seed. She tells us that Clark is going to be her assistant, before embarking on a passage that includes an inmates' rap. As Clark backs her up with verbal clapping and stamping, Atwood chants the rhyming lines and the audience is rapt.
Still reeling from Atwood's rap, it's over to us, the audience, for some (very interesting) questions. A lot of important ground is covered, including redemption, religion and the prison system. One audience member asks Atwood something I've been wondering myself: how can the dystopian worlds she creates be so "worryingly prophetic"?
"Oh, you mean do I have magic powers?" Atwood says, "Unfortunately I do not have magic powers."
She reminds us that George Eliot wrote that writing a novel is like holding a lamp up to a mirror, highlighting the scratches and dust that are already there.
"The vibrations are never that far away," says Atwood.
Atwood finishes by making a deadpan joke about Donald Trump, before dancing her way off stage.
She may not have magic powers, but Margaret Atwood is funny, warm and incredibly wise. Plus she can rap.
___
Emily Morris is a writer from Manchester. Her memoir of single parenthood, My Shitty Twenties, will be published by Salt next summer. She is currently writing short stories and working on a young adult novel. You can read more of her writing here or follow her on Twitter @MyShitty20s.
Image: Jon Parker Lee