MLF Chapter & Verse
The Manchester Literature Festival Blog
Young Digital Reporter Review: Margaret Atwood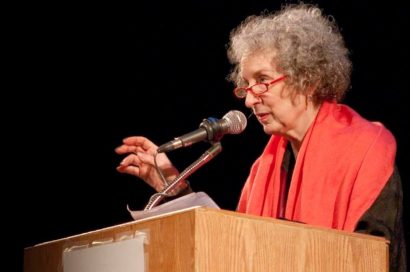 Our young digital reporter Laura Cooper reports from RCNM Theatre, where acclaimed Canadian author, artistic visionary and teller of magical tales Margaret Atwood discussed her latest novel Hag-Seed, a retelling of The Tempest.
Margaret Atwood is a writer defined by the eclecticism of her subject matter. Over her long career her writing has ranged from the stark dystopia of The Handmaid's Tale to the 19th century murderess of Alias Grace. As I took my seat to see Atwood in conversation with Alex Clark at the Royal Northern College of Music, I was delighted to see the diverse audience she drew, from teenagers like myself to those nearer Atwood's 76 years, eager to learn from the wisdom and wit of this woman. In vibrant red shoes and bristling with mischievous asides moving from ice hockey to her Richard Dawkins impressions, she did not disappoint.
A stalwart of the MLF, Atwood was drawn back this year to discuss her latest novel Hag-Seed, another left turn: a modern retelling of Shakespeare's The Tempest as part of the Hogarth Shakespeare project. Rather than simply transferring Shakespeare's play into the modern world, Atwood plucked the plot from a power struggle between Italian dukes and hurls it into the equally ruthless squabbles of local government officials. But as Atwood explained, The Tempest is the nearest Shakespeare got to writing about his everyday life in the theatre, as Prospero attempts to direct those around him to obey his self-scripted revenge. Atwood makes Shakespeare's analogy plain by making her Prospero a director ousted from his long tenure at a Shakespeare festival now plotting revenge upon his enemies whilst working on a production of, yes, The Tempest with a prison literacy group – a play-within-a-"play" structure which Shakespeare would be proud of.
Despite the vastness of the RNCM's theatre, Clark and Atwood's warm exchange whilst sunk into grey armchairs gave the evening the feel of chatting to inspirational, rebellious English teachers during lunch break. Even the necessary reading from Hag-Seed was out of the ordinary. Atwood read the scene where the actor-prisoners reworked the notoriously plodding backstory of Act 1 Scene 2 of The Tempest as a hip-hop musical number from the point of view of the malevolent Antonio, featuring the lines "turned me into his evil twin/ that was a sin". Clark gamely provided a backing of "stamp!" "clap!" which I doubt has been heard in the RNCM before. A rapping Margaret Atwood was not what I predicted the night to contain, though with Atwood you should always expect the unexpected.
____
Laura Cooper is an 18 year old gap year student working at museums around Manchester whose interests lie in literature, natural history and the philosophy of science. You can read more of her writing here.