MLF Chapter & Verse
The Manchester Literature Festival Blog
Review: Olivia Laing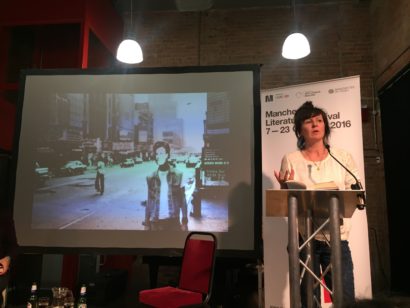 'People have lived with shame and isolation, and have succeeded, and we need to be reminded of that': Our blogger Natalie Kane reports on our recent in-conversation event with Olivia Laing.
As Manchester is falling headfirst into autumn, into darker hours with emptier trees, a warm shuffle of coated people make their way into Anthony Burgess's living room. Well, not quite, but I imagine he'd be happy for people to think of a venue named after him in that way. On the screen behind the stage is a slideshow of images of bodies and faces, strange objects and figures. These are the background to Olivia Laing's latest book, The Lonely City: Adventures in the Art of Being Alone, the work of the subjects found within; Edward Hopper, Andy Warhol, Henry Darger and David Wojnarowicz.
Before conversation begins, Olivia reads from her own experience of loneliness in the book, in which she lays her own isolation bare first, as if it was right to talk about her own loneliness before talking about that of others. The Lonely City is a book that is woven through with the author's search for understanding in what it means to be alone, and why we are so terribly frightened by it. As Olivia later explains, this experience of feeling alone 'is encased in shame, which is the primary thing about loneliness. It becomes the unspeakable, painful element of loneliness'.
Olivia speaks warmly, honestly and without cynicism, something that is so easy to fall into when talking of your own experience. Just out of love and in a Manhattan apartment, Olivia pulls strands from her life and ties them to the history of others. Every other line she looks up at the audience, checking to see if we are still with her before moving on. This holds a subtle importance; so much about loneliness is understanding its place among others, and as Olivia's book explores, how loneliness is so different for each of us. As Olivia goes on to explain, she didn't want to write a memoir, 'rather how it affects multiple people living many types of lives.'
To understand this plurality, Olivia tells stories of four men, spoken about like old friends. She laughs as she tells their stories, she shows pain when she speaks about theirs. On telling the story of Andy Warhol, she pulls a mirror between her own use of technology and the possibility that his vulnerability led him to the utilisation of new recording machines, simultaneously drawing people towards him, and pushing them away, much like Laing's own use of social media technologies. There is a tenderness to the way she talks about herself, and the others she chose to write about, which reminds me of that Jenny Holzer work emblazoned on the front of a disbanded movie theatre; 'IT IS IN YOUR SELF-INTEREST TO FIND A WAY TO BE VERY TENDER.' As Olivia reminds us, 'Loneliness is a fertile experience', noting that perhaps the work of those she features wouldn't have happened without it. In understanding that, tenderness is needed in explaining that fine balance to others.
Together with Kate Feld, tonight's host, Olivia talks with both joy and the irretrievable grief that comes with knowing that you can have a first time only once, on holding the belongings of David Wojnarowicz in her hands when exploring his archive, and on seeing Darger's uncanny, nightmarish paintings. Both Feld and Laing fall into the remembrance of this experience, to know you are not alone, to know someone else, at some time, felt like that too, and how many ways there are to express it. Watching them talk with each other is like watching an interpretation, both treading carefully to find the right words, discovered with a full heart.
The audience questions feel almost as if we are asking advice, as if Olivia, after hours of sitting amongst her own loneliness, can shed a light on ours. Is there a link between loneliness and silence? How can we find ways of talking to people that aren't terrible? Is loneliness something you can choose? And knowing what it was like to search for the answers to these questions, Olivia replied without claiming expertise, her final words giving hope, and a light to leave us with; 'People have lived with shame and isolation, and have succeeded, and we need to be reminded of that.'
Leaving the venue, ahead of me a woman in the audience beamed to our host, 'it could have gone on all night'. She wasn't wrong, we could have, as if talking about loneliness might help us all feel a little less so when we return to where we have traveled from. To know that others are questioning its power, and of the resistance fought by many; in crowded streets, with others, on their own. As Laing remarks in the closing chapter of The Lonely City, "We are in this together, this accumulation of scars, this world of objects, this physical and temporary heaven that so often takes on the countenance of hell. What matters is kindness; what matters is solidarity."
___
Natalie Kane is a writer and curator, who also is a co-founder of Haunted Machines, a curatorial research project looking at the proliferation of magical narratives in technology. You can read more of her writing here or follow her on Twitter @nd_kane.