MLF Chapter & Verse
The Manchester Literature Festival Blog
Review: Rose Tremain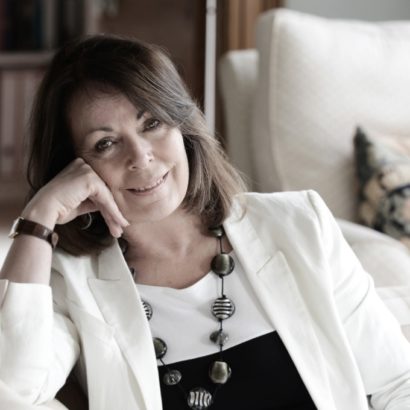 Our blogger Sarah Jasmon reports from Central Library, where the bestselling author of 14 novels and beloved storyteller Rose Tremain was in conversation with writer and critic Alex Clark. 
"The difference between Rose Tremain and everyone else is that she sees a picture in a museum and builds a whole novel from it. We just see the picture." The woman I'm eavesdropping on is talking about The Colour, Tremain's 2003 novel about the gold rush in New Zealand. I'll be absolutely upfront about this: I've not yet read a Rose Tremain novel. The sign of a good literary evening, though, is when it leaves you with the desire to work your way through a whole oeuvre. My to-be-read pile has just increased by fourteen novels and several short story collections…
We're here, nominally, to hear about Tremain's latest novel, The Gustav Sonata. Set in the years following WW2, and located in 'the least attractive part of Switzerland,' the story opens when Gustav Perle is five years old. He has never been loved, even though the one thing he is certain of in his life is that he loves his mother, the withdrawn and broken Emilie. Then he meets Anton, a precocious and highly-strung newcomer, and so begins a friendship that will stretch across both of their lives. It is not, she assures us, written in childish language or in first person narrative. We hear the author's voice, but see Gustav's soul.
This is Rose Tremain's fortieth year in publishing. Her books send her readers across the globe and into diverse moments of history. Writers, she says, experience aspects of their lives many times over, and she aims to write both 'the large and the small… intimate human drama set against the backdrop of huge historical resonance.' When she relates Kipling's advice – to build a fire with your research, to live through it yourself, but then to let the flames die away so you write with the embers – a ripple of agreement runs through the audience. They love her books, this audience. When we get to the Q&As, the first audience member asks a detailed question about a short story which her book group will be discussing the following week. The next admits to tracking the locations in The Colour on a trip to New Zealand and talking to locals who remember the initial research being undertaken. The news that another novel, The Road Home, is being developed into a television drama provokes a discussion on post-Brexit Britain. Tremain demonstrates a remarkable facility for accents: Aussie, American, German. (Discussing characters, she purrs in a German accent, 'I like to write the naughty ones best.' She really does purr, like a feline Marlene Dietrich.)
The final question takes us back to the latest book. Who would Tremain rather be, Gustav or Anton? To feel Anton's depths of emotion, or to experience Gustav's neutrality, his pursuit of safety and warmth? Gustav, she says at first. But the questioner follows through: could Gustav have written a book? Maybe not. Tremain still has many books to write, and this audience is hoping that neutrality is some way off.
____
Sarah Jasmon author of the novel The Summer of Secrets, works as an associate lecturer in creative writing at the Manchester Writing School and as a freelance copywriter. You can read more of her writing at www.sarahjasmon.com or follow her on Twitter @sarahontheboat.
Image: David Kirkham