MLF Chapter & Verse
The Manchester Literature Festival Blog
Review: Susan Barker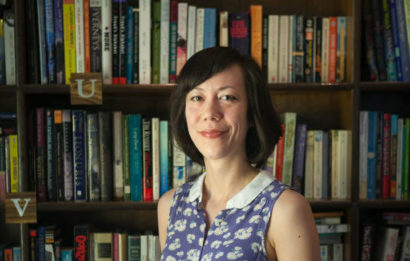 Festival blogger Melissa Brakel headed to International Anthony Burgess Foundation to learn how novelist Susan Barker researched and wrote her award-winning historical novel The Incarnations.

Day 2 of the Manchester Literature Festival and we find ourselves tucked away off Oxford Road on the edge of Chorlton Mill, in the Engine House of the Anthony Burgess Foundation. It's a full house for Susan Barker who is here to talk about her novel The Incarnations.
As a writer of two previous books, The Incarnations took Barker six years to complete – a length of time which she says surprised her, but which allowed her to immerse herself in a culture she knew little about. Arriving in Beijing in 2007—a time of anticipation, paranoia and renovation in the year prior to the Beijing Olympics—gave her insight into the lives of ordinary people, time to witness the sensory impressions of the city and introduced her to her protagonist, a taxi driver called Wang Jun.
'Through the windscreen of his taxi, Wang has seen the city change. He has seen the wrecking balls swing, bulldozers leveling streets to rubble and dust and skyscrapers rising like bamboo after the rain.'
The story starts when Wang flips down the visor of his taxi and an anonymous letter falls into his lap. The letters are sent to him by someone claiming to be his "soulmate", who has been with him across one thousand years of history, spanning his previous lives as a spirit bride, as a slave to Genghis Khan, a fisherman during the Opium Wars and a teenager on the Red Guard during Mao's Cultural Revolution. The theme of reincarnation allowed Barker to really delve into Chinese history and to find the small stories within broad historical eras.
Having a taxi driver as her protagonist gives the reader a panoramic view of the city, and Beijing feels very much a secondary character in the novel, if not the novel's co-author. Her research 'in the field'—from walking around Beijing and observing, working as an English teacher, to having conversations with strangers—far remove her fiction from any insularity that comes from writing solely from imagination. Barker says she has 'never liked inward-looking fiction' and that this auto-didactic approach to writing allowed her to seek out ideas from as many sources as she could.
Questions from the audience displayed curiosity about her method and had praise from those who have read the novel. A book important for its insight into contemporary Beijing as much as its bringing to life periods of Chinese history, this all bodes well for Barker's recent appointment to the University of Manchester as lecturer with the Centre for New Writing.
____
Melissa Brakel is starting to write fiction. You can follow her on Twitter @tworamona