MLF Chapter & Verse
The Manchester Literature Festival Blog
Review: The Whole Kahani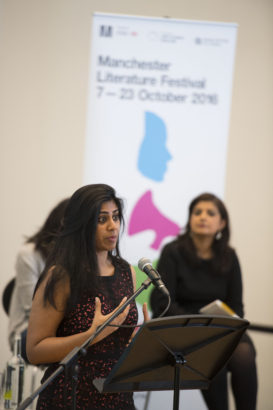 Festival blogger Amy McCauley headed to Whitworth Art Gallery and was moved and inspired by an afternoon of new fiction from The Whole Kahani writing collective.
The question of shifting and multiple identities is one we must all negotiate in our rapidly changing world. As Reshma Ruia, founder of writing group 'The Whole Kahani says, grappling with "the shifting boundaries between geographical and cultural identities" is a large part of "the complex drama of being human" in the twenty-first century. And the drama of these boundaries and their potential flexibilities is richly and variously examined by the five writers from the collective presenting new work here at The Whitworth Gallery.
Ruia introduces the group's anthology Love Across a Broken Map as an exploration of "dark, pulsating loves which cut across ethnicities and divides", and the stories demonstrate just how pertinent and necessary fictional forays into the precariousness of identity are to us all. In Iman Qureshi's story 'Naz', it is a dog which brings two lovers together; the animal providing a bridge for communication between two very different women. Qureshi's carefully observed moments of humour document the awkwardness of young love, and when Naz remarks "I didn't know how many conversations you could actually have" she captures perfectly the sense of expanding horizons a new intimacy yields.
Kavita Jindal's 'The Three Singers' interrogates the question of what it means to be mixed race in the UK, examining the ways our outward signifiers – "what's in a name?" she asks – are interpreted by others in our social landscape. 'The Nine Headed Raven' by Radhika Kapur and 'Soul Sister' by Reshma Ruia are especially effective in their approaches to questions of cultural hybridity and what it means to 'assimilate.' Kapur's story dramatises both the euphoria of love and love's seeming impossibility. In this marvellously deft and sensitive piece, the lovers are like speakers of two different languages attempting to translate one other without the aid of a dictionary. And in Ruia's 'Soul Sister', the felt realities of everyday life are explored in careful, dense detail.
"At forty-two" her protagonist "is still surprised by the careless cruelty of the human male"; while her loneliness – as it sloshes about in the endless lukewarm soup of the city – is devastatingly ordinary and true. Likewise, Ruia's careful description of the disjunct between who we are and who we want to be is vividly realised.
Finally, Shibani Lal's 'Entwined Destinies' explores a daughter's relationship with her father, delicately traversing the silence growing between a parent and a child. This gentle, precise story amplifies the things we choose to withhold from one another, displaying a flair for observation and linguistic nuance.
Many questions flow through all of the stories here. For me, the question of 'assimilation' and what that means (what do we gain and what do we lose by attempting to 'assimilate'?); as well as the question of how we negotiate our new, multiple identities while remaining true to our singularity seem most resonant. Equally, I'm impressed by the power of these voices, and by the boldness with which each writer tackles the complexities of modern love.
___
Amy McCauley won a Northern Writers' Award (2016) and is Poetry Editor for New Welsh Review. You can read more of her writing here
Image: Jon Parker Lee