MLF Chapter & Verse
The Manchester Literature Festival Blog
Young Digital Reporter Review: Gillian Slovo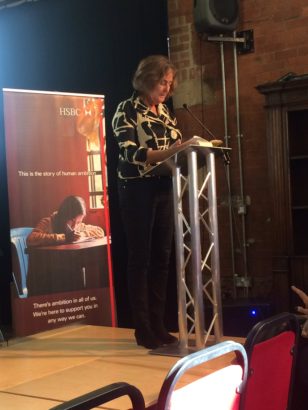 'No matter what you said yesterday, tomorrow will be different': MLF's Young Digital Reporter Mary Lou Fletcher reports on our recent in-conversation event with Gillian Slovo and Rachel Cooke.
Rachel Cooke's conversation with Gillian Slovo, which discussed her latest book, Ten Days, was much like the author's work: witty and thought-provoking with a dash of humour.
2pm. Cut to the International Anthony Burgess Foundation where people are gathering in eager anticipation as they wait for Gillian Slovo to arrive. There's a buzz in the air, the rare appearance of early October sunshine creating a pleasant warmth in the cafe, the whir of a coffee machine mingling in with the chatter of attendees. A woman with curly hair and a straight back makes her way past the people seating themselves and steps onto the stage. Gillian Slovo has arrived.
After host Rachel Cooke introduces Slovo, the list of her achievements and previous works seemingly endless, the latter takes to the podium to read out extracts from her latest novel. The room is hooked. There is a banter as she speaks, her narration littered with off-hand comments about the characters, allowing the audience to laugh alongside her. After a slight fumble where Slovo forgets one of the main character's surnames, much to her and everyone else's amusement, she finishes the last extract and returns to her seat as people applaud.
Despite the stage and the numerous achievements of the author, the atmosphere is intimate, as though it were a gathering of like-minded people.  Slovo is refreshingly candid as she answers Cooke's questions, ranging from those focussed on Ten Days itself to theatre, refugees and the experiences that led her to write. Slovo did not shy away from more sensitive topics, including the 2011 riots that took place in England, a key subject of both Ten Days and her latest play. She spoke passionately about those taking part in the riots who felt as though they had nothing left to lose, a passion  echoed in her thoughts about refugees and how they were being perceived in a 'much less human world'.
It was a mix of emotions, the hall fluctuating from silent awe to a light tittering of laughter and back again as we absorbed her words. One sentence that stayed with me springs to mind: 'No matter what you said yesterday, tomorrow will be different'.
____
You can read more of Mary Lou Fletcher's writing here or follow her on Twitter @mary_044
Image: Kirsty Hutchison