MLF Chapter & Verse
The Manchester Literature Festival Blog
Young Digital Reporter Review: Hollie McNish & Salena Godden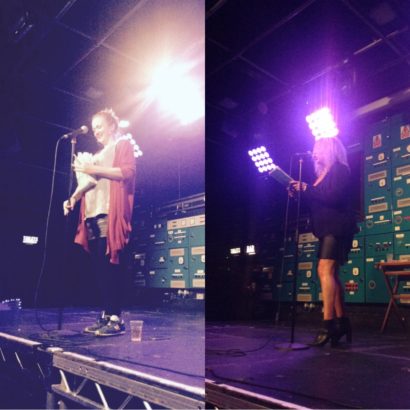 MLF's Young Digital Reporter Jess Molyneux reports from Gorilla, where two stars of the UK performance poetry scene, Hollie McNish and Salena Godden, lit up the stage.

After a promising introduction from MLF's Kate Feld, Hollie McNish took to the stage and immediately endeared herself to the audience by noting that she had matched her t-shirt to the venue (Gorilla on Whitworth Street West). She announced her planned 'whistle stop tour' of her latest book, Nobody Told Me, published earlier this year, which is a winningly honest, exposed account of her early experiences of motherhood. Warning us that it may be a bit 'miserable and moaning', Hollie laughed that sitting alone writing poetry just isn't as appealing when you're happy.
She began at 5 months pregnant, amusing the audience with an easy style and natural rhythm and detailing her picture of the ideal family living on a vineyard in Italy, contrasting it with the stress of the 'should, should, shoulds' of her 'pregnancy update' emails.
Soon she was 9 months gone, giving a humorous account of her false labour (which turned out just to be a number two) and admitting 'I'm petrified, waiting, waiting'. Speaking about breastfeeding brought a continuous rumble of knowing laughter as she described feeling 'like a cow'. Her admiration and charming affection for her young daughter were evident as she referred to her by turns as 'a genius' and 'an extreme sports baby', likening their first attempt at feeding to an absailing adventure.
Skipping sections where she professed to be alternately falling in love and not knowing what she was doing, Hollie moved on to reading 'Embarrassed', her insightful and shrewd evaluation of Britain's attitude towards public breastfeeding, condemning the 'country of billboards covered in tits' for shaming mothers who breastfeed.
Hollie had the audience roaring with her frank account of sex after pregnancy and the muddle she experienced in going from 'staring at innocence to staring at pants'. We were sobered and moved, however by a poem written to her one-year-old daughter, compelling her to celebrate her colour, even though 'the angels are not in your hue'. She left us wanting more of her captivating frankness and witty insights, ending on a poem which described one of her lowest points in parenthood; her daughter's eight-minute tantrum in the middle of the high street. With her plea of 'Ground, swallow me up,' our hearts reached out, and we were once more impressed by her resilience and wisdom as she described her self-reassurance, but conceded that 'judgement is draining'.
Following raucous applause and a brief interval, Salena arrived with a bang: a loud and animated 'public service announcement' about 'doing what the f*** you like with your own tits'.
She presented her piece 'You're a Citizen of Nowhere', attacking Theresa May's 'citizen of the world' view, and a poem written in Berlin allegedly 'under massive PMT and a hangover' attacking a too-perfect girl at a nearby table who 'not one wasp bothers'. Her actions, yelling and stamping enlivened the recitation, and the audience cheered as she concluded by converting scorn to pride in the rawness of her own poetry: 'your poems don't even attract wasps'.
Her next piece 'Shade', published in new anthology The Good Immigrant explored race and marginalisation with a submarine extended metaphor, condemning the dominance of the 'great white shark'. She urged us to 'get out of the shade and enjoy being outside', proclaiming that 'we all tick other'.
Salena brought the evening to a close with her favourite poem, from her collection 'Fishing in the Aftermath', attacking apathetic people and their 'can't' attitude, which ended up with the audience joining her as she bopped around the stage, clapping along to the can can.
___
Jess Molyneux is an A level student and aspiring writer from Manchester. She has had articles published in the Manchester Weekly News. You can read more of her writing here