MLF Chapter & Verse
The Manchester Literature Festival Blog
Young Digital Reporter Review: The Good Immigrant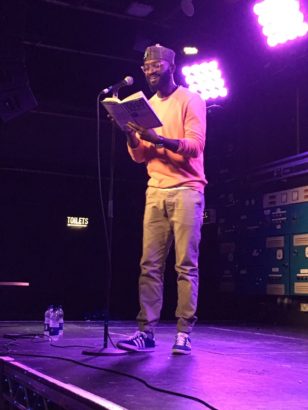 Our blogger Melissa Brakel reports from Gorilla, where Himesh Patel, Miss L, Inua Ellams and Nikesh Shukla, editor of The Good Immigrant, performed some of their powerful and funny essays from the book.
'Is this for The Good Immigrant?' I'm dubious, standing in a queue beneath the railway arches. It feels as though I'm going pre-dinner clubbing, not to a literary event. Inside Gorilla, the club is already packed out with people sat beneath twirling disco balls, beers in plastic cups. It is fair to say it is one of the most diverse crowds I have seen at a literary event – diverse in terms of age, gender, ethnicity and the inclination for bare ankles in autumn.
Nikesh Shukla, our host and the editor of the book, bounds onto the stage, his black jumper reading TOKEN in big white capitals. In his hand is a copy of The Good Immigrant, filled with essays by him and 20 other writers exploring what it means to be black, Asian or minority ethnic in Britain today. Inspired by the Chinua Achebe quote: 'If you don't like someone's story, write your own', here Shukla holds the end result. I've heard good things; last week the book received a five-star review from the Independent.
First up is Himesh Patel. In his essay, he tells us that acting was a way for him to transcend race, to 'be anything he wanted to be' – a truth which was only problematized later in his career. At the start, aged four, he had been a Teenage Mutant Ninja Turtle and tried to jump from his bedroom window. Miss L tells us that as a child she had played Jack Frost—'the whitest man the world had ever seen'—but later at Drama school, she is reduced to the colour of her skin and typecast as a terrorist. Actually, no. 'The Wife of a Terrorist'.
We hear an extract from Shukla's hilarious 'Namaste' and Inua Ellams tell us the story of his journey across barbershops in Africa, which is currently being developed with the National Theatre into his Barber Shop Chronicles. Ellams found people so different not only between African countries, but within them, that it highlighted how 'deeply, deeply, deeply problematic' it is to attach a single label to a people so varied.
The evening was insightful, sometimes tragic and full of genuine belly laughs. The book was crowdfunded in just three days and has important things to say, particularly in light of the surge of hate crime and anti-immigrant rhetoric in the UK since Brexit. I left with a signed copy in my tote bag.
___
Melissa Brakel is starting to write fiction. You can follow her on Twitter @tworamona