MLF Chapter & Verse
The Manchester Literature Festival Blog
Review: Deborah Levy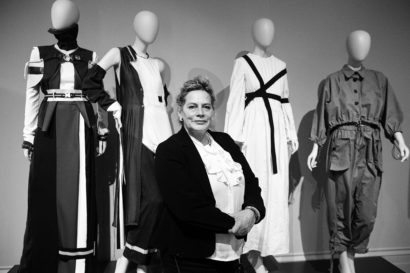 'Sometimes we want to un-belong as much as we want to belong'. Our blogger Sarah-Clare Conlon reports from the Manchester Art Gallery where Deborah Levy read and discussed her MLF commission in response to the Fashion & Freedom exhibition.
It's not easy to navigate a path through the downstairs gallery where the Fashion & Freedom exhibition is on, at least not this lunchtime. A melée of ladies, mostly, and mostly of a certain age, are cramming the space in Manchester Art Gallery; the rest is occupied, of course, by the mannequins displaying the clothes we're here to hear more about.
In the far corner I observe at close quarters author and Man Booker shortlistee Deborah Levy milling around, studying the interpretation boards. Nobody seems to have even noticed. Each work is a truly contemporary response to fashion's varied past reads one such panel. Deborah is looking at it as if she has never looked at it before. She has looked at it before, possibly on numerous occasions. We, dear reader, know this because Deborah Levy is here today to present a brand new piece she has written; her own response to fashion's varied past.
How no one has noticed her is a mystery, or perhaps everyone's too polite to make eye contact. As the event unfolds, it becomes apparent that this is daft. She is a lovely guest to have at Manchester Literature Festival, it turns out; she involves the audience, talks directly into people's hearts and minds. It feels like you could easily call her your friend and have a great chat over a glass or two of wine.
My question on the tram into town was 'why are you especially qualified to get a special commission to respond to an exhibition about fashion?' Manchester Art Gallery's Meg Parnell went some way to answering it in her introduction: Deborah has a big interest in clothes and their impact on women's lives. I'd already sussed it. White frill-yoke pussy-bow blouse. Very on trend. Black trousers and tux-style jacket. Classic. Black and white golf shoes. Chain-strap, over-the-shoulder handbag. Paste diamond earrings, bracelets; updo.
Deborah's response to the show was a story of fiction, based on fact, and based on memory. It centred on the mother and daughter relationship (the main theme of her latest novel Hot Milk). Her mother, your mother, my mother saying "who do you think you are?" when you walk out the door wearing whatever godforsaken outfit you think makes you "it" at that particular moment in time. You, me and her have all been there – what we wear can be our way of gunning a bid for freedom, from all kinds of restraints. But also: "Sometimes we want to un-belong as much as we want to belong." What we choose to wear makes us individuals. It's about having a choice.
Obviously, there are contexts. It depends where you live, where you come from, where you're going to. "In Britain," says Deborah, "We have quite an open attitude to the way people look." She recognises, too, the effect of appearance on men. David Bowie, she highlights, "allowed boys to break out of the rigid masculinity that their fathers had grown up with." And that was what came through in her talk – identity is what you create for yourself. "Force the world to deal with you, not with its idea of you," she quoted.
Footnote, and hat-tip to Q&A host Katie Popperwell for posing the question: Deborah hasn't decided what she's wearing for the Man Booker Prize gala next week, but she has three ideas, and her daughters are receiving a lot of parcels from ASOS.
___
Sarah-Clare Conlon is literature editor of Creative Tourist and contributes to various publications. She is an award-winning writer and runs popular monthly spoken word night Verbose. You can read more of her writing here or follow her on Twitter @wordsnfixtures
Image: Jon Parker Lee