MLF Chapter & Verse
The Manchester Literature Festival Blog
Review: Margaret Drabble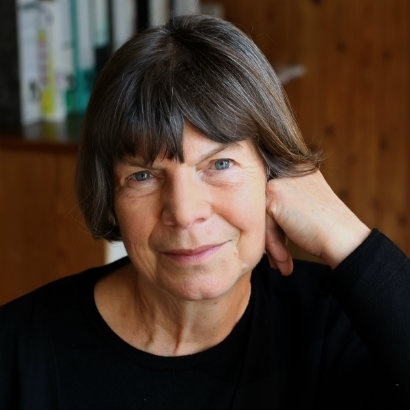 'Everyone survives old age differently." Our blogger Rebecca Audra Smith is delighted by Margaret Drabble's writing and empathetic spirit. 
You must read Margaret Drabble. So concluded my Granma in response to my whine of 'I've run out of books to read.' A week later I've finished The Millstone and am telling everyone: you must read Margaret Drabble.
So I arrive at Manchester Central Library ready to leave with a deeper understanding of life, death, feminism, love, all the big stuff. Carol Ackroyd provides an excellent foil to the author's dry humour. 'We have no smug elderly married,' she remarks at one point, and after a minute or two of searching through her characters' love lives, Margaret Drabble has to agree.
The Dark Flood Rises is not out until November, so the audience grapples with the themes of aging, independence and survival through the conversation. It is a playful, powerful examination of aging and the unique approach each person takes to the surprising act of growing older. It is full of one-liners from both, ranging from, 'do men improve as they age?' to 'I've been holding onto the bannister ever since'. We range in topic through migration, the history of the Canaries, the floods, Brexit, surviving February, and the comfort of a Premier Inn.
'Everyone survives old age differently.' Drabble's charm is her sympathy; she has a warm and generous spirit whilst also taking no prisoners. We discuss the character Fran, who has made the choice to live in a tower block in London, her determination to climb the stairs when the lift breaks; her human frailty feels funny and touching. In contrast Jo is concerned with comfort, 'there are bells to ring and buttons to push if anything goes wrong '. Drabble describes herself as a mix of the two characters, restless and admiring the ability to do something 'utterly strange and new', but fully aware of the annoyances of old age and the right to comfort.
'It's hard for a young person to realise that a whole life has gone into this person who is 70 or 80.' There's very much a feeling that here is an author writing the stories of her own people. 'I am the elderly!' she emphatically exclaims at one point. One of the audience asks her, how can we combat ageism? And part of her answer is that we need more people to listen. The event is a compelling exploration of the act of telling the story of what makes a life worth living, and a death worth dying.
___
Rebecca Audra Smith is a feminist poet living, working and writing in Manchester. You can follow her on Twitter @BeccaAudra
Image: Ruth Corney