MLF Chapter & Verse
The Manchester Literature Festival Blog
Review: Refugee Tales: Marina Lewycka & Dragan Todorovic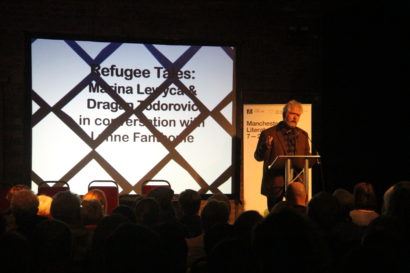 "We don't always hear about refugees as individuals – with families, with hopes, with tales of trauma". Our blogger Katherine Reed headed to Anthony Burgess Foundation to discover two of the Refugee Tales.
"These stories change you," said the writer Dragan Todorovic.  As part of the Refugee Tales project he had met a Syrian refugee, whom for anonymity's sake he called Aziz, who had been brutally tortured in a prison in Syria ("I was asked not to ask about his imprisonment").   Todorovic described the intense trauma visible on Aziz's face as he talked about his exile.  Through simple details, "The Migrant's Tale" built up an almost unbearable sense of desperation and helplessness.  Marina Lewyca, who's "The Dependent's Tale" is about the experiences of a child detainee, said, "I am known as a comic writer, for a light touch – but I couldn't find any humour in this story."
Lewyca and Todorovic's work is part of the Refugee Tales anthology of short nonfiction recently published by Comma Press.  The project is a precious exercise in empathy.  As Anna Pincus, from the Gatwick Detainees' Welfare Group, explained, "refugee voices are often silenced.  We hear about refugees in terms of numbers.  We don't always hear about refugees as individuals – with families, with hopes, with tales of trauma."   She said that the people the group visited in detention centres "felt invisible but didn't feel safe to share their stories."  The anthology, which paired well-known writers with former detainees, was a way to do this respectfully and anonymously.
The title is a tribute to Chaucer's Canterbury Tales.  An intriguing aspect of the project was a long-distance walk with the group (writers, volunteers, former detainees) stopping off for storytelling along the route.  Anna Pincus said that it gave the public an opportunity to be hospitable to refugees.  After some concerns about walking through Brexit strongholds, "all that happened was we had more cake than we could eat."  Another five-day walk is planned for next year.
___
Image: @commapress