MLF Chapter & Verse
The Manchester Literature Festival Blog
Review: Sarah Howe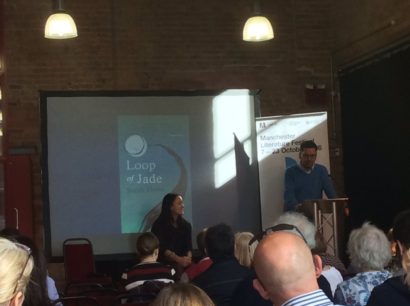 MLF blogger Amy McCauley attends our event with poet Sarah Howe, where she finds a robust poetics 'brimming with questions' alongside 'a refusal to offer easy answers'.
The question of voices and inheritances – cultural, social, historical and familial – travels across Sarah Howe's work, and her astonishing performance at the Anthony Burgess Foundation confirms hers is a voice to keep an eye on.
Following an introduction from John McAuliffe of the Centre for New Writing,  the poet begins by reading from her T.S. Eliot prize-winning book Loop of Jade, and the drama of her reading brings the drama of her poetries directly to bear on the ear: the sudden swerves in tone and texture on the page are made orally and aurally felt as presences in the room. Rarely do writers make use of the fullest possible range of the voice; yet Howe slides through the scales of her vocal range with the confidence of a trained singer, utilising the semitones and 'off' notes as well as those of the major scale.
"I'm interested in writing in different shapes and seeing what that does to the voice" she says, and the moves and countermoves of texture, the quick shifts in linguistic register are superbly documented by her voice. At once, the sonic imagination is engaged by the theatre of language's double-headedness, its infidelity.
Howe's commentary on her work is illuminating. When she describes the bracelet which gives her book its title – the 'Loop of Jade' – she describes it as an object "that somehow gave [me] a sense of entitlement to [my] inheritance", calling it "a practical thing; but also a quasi-magical thing." The poem 'Loop of Jade' emerged, she says, from the stories Howe's mother would tell her when "all the downstairs lights switched off but one." These tales of her mother's childhood "came out in a disordered, broken, jumbled way", and so 'Loop of Jade' itself is intentionally "fragmentary" and many-textured; full of notes and counternotes. Howe goes on to suggest the received dictum for poets is to "find your own voice"; yet she promptly turns that dictum on its head, saying: "our voices are made up of tissues of other voices."
This 'turning-upside-down' of ideas is integral to Howe's project, while the poet's description of her loss of Cantonese as "a grief" offers a startling insight into the way languages can offer – or withhold – aspects of experience from us. Born in Hong Kong, but raised from the age of seven in the UK, Howe's perspective yields fascinating observations. "Although race is determinative it is also strangely imaginary" she argues, saying "the difficulty of imagining otherness" is also "the difficulty of imagining crossing the boundary of that otherness." This thought-provoking idea raises many questions regarding what we might call the politics, or ethics of the imaginary; essential questions at a time when the UK is considering what it means to be a 'citizen.' But Howe tells us she struggles to define herself as "a Hong Kong writer", adding Hong Kong is largely "a location in the imagination" for her.
An exciting, independent thinker as well as a fascinating and original poet, Howe's poetics is brimming with questions. Where do we position our voices in relation to place, history and 'nationality'? What does it mean to inherit myths and meta-narratives of 'identity', language and race? Her refusal to offer easy answers is both brave and exciting.
__
Amy McCauley won a Northern Writers' Award (2016) and is Poetry Editor for New Welsh Review. Find out more about her work here.