MLF Chapter & Verse
The Manchester Literature Festival Blog
Review: Susan Calman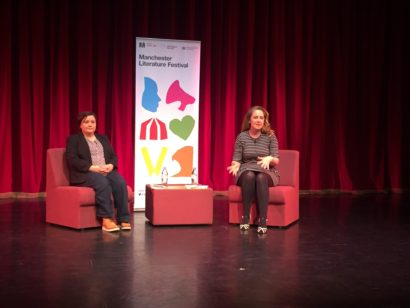 Festival blogger Sarah Jasmon headed to The Dancehouse where comedian and author Susan Calman explained that 'depression isn't the end of everything.'
'I'm not a medical doctor,' Susan Calman says, 'but I've watched Casualty, I can do a tracheotomy with a biro.' I turn to the woman next to me. 'I can do a tracheotomy with a biro too!' It's a supremely joyous moment. Calman and I watched the same episode, and had exactly the same response! I want to ask her if she read Little House on the Prairie and can therefore build a log cabin. This could be the beginning of a beautiful friendship.
Susan, if you're reading, don't worry: what follows is a compliment-free zone.*
For those of you who weren't there on Wednesday, let me clarify. When the MLF blogging rota came round, I had one name on my list. My email went something like, 'I'm happy to blog about anything, but please, please, Susan Calman!' (Spoiler: I'm a fan). But Calman hates compliments, going so far as to say they are physically painful. As one of her ongoing strategies for dealing with her own depression, she and her wife have negotiated 'Compliment Saturdays', when she has to accept one compliment. Not wanting to mess with the balance, I'm going to avoid them altogether. (*I might not be able to manage no complimentary language, mind…)
Book talks often go off at tangents, but I've rarely been to one where the experiences behind the book are shared so openly, and with such fluency. It's a counter-balance to years of saying nothing. Being a gay teenager in Glasgow in the 80s was isolating to start off with, a state compounded by a stay in a psychiatric hospital leading to PTSD. Calman's first career, as a corporate lawyer, wasn't the best place to open up about depression either. The link between depression and comedy is long-standing, but it wasn't until she devoted an episode of her radio series, Susan Calman is Convicted, to the topic that the huge connection this created with the audience became apparent.
Calman's first book, Cheer Up, Love: Adventures in Depression with the Crab of Hate, is the result. One of her aims in writing it was to show that she has been low but is still ok, that depression isn't the end of everything. It's also for people who live and work with depressed people. Calman is upfront about the fact that being with someone who is depressed is hard, but wants to alter the vocabulary. After all, one in four of the population suffer from mental health issues, and 'that's a figure that hasn't been updated recently.' We can all benefit from having the right words to use. And maybe, like Calman, we could all benefit from starting the day with a superhero pose. (Yes, really. Stand like Wonder Woman: the Ted Talk is here.)
Depression takes away joy, making you lose the times when you should be happy. Having spent 38 years wanting to be a different person, one of Calman's main achievements so far is to accept who she is. There are tears along the way, but it's a joyful evening. Calman is a comedian, after all, and one with a gift for bonding with the audience. The book sounds ace. That's a compliment. I can't help it.
___
Sarah Jasmon author of the novel The Summer of Secrets, works as an associate lecturer in creative writing at the Manchester Writing School and as a freelance copywriter. You can read more of her writing at www.sarahjasmon.com or follow her on Twitter @sarahontheboat.
Image: David Mclenachan