MLF Chapter & Verse
The Manchester Literature Festival Blog
Review: Writing Karachi: Mohammed Hanif & Kamila Shamsie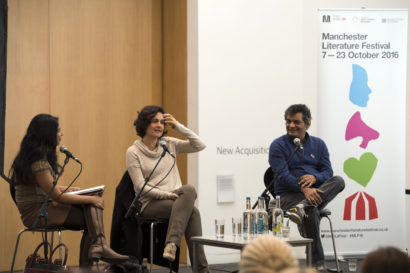 "It is a place to get lost in, because nobody knows who you are." Our blogger Amy McCauley heads to Whitworth Art Gallery to discover the complexities of Karachi, in the company of two authors who have called it home.

The Whitworth Gallery offers a warm welcome to two novelists – Kamila Shamsie and Mohammed Hanif – both of whom have strong attachments to Karachi. Shamsie was born and raised in the city, while Hanif (who grew up in a village in Punjab province) arrived as an incomer. Both writers have lived and worked in the UK (Hanif worked as a journalist for twelve years in London; Shamsie is now based in London), but each writer has a distinctive perspective on the city.
The discussion begins with Shamsie and Hanif reflecting on why they choose to repeatedly return to Karachi as a location in their novels. Shamsie makes it clear that "at no point have I thought I am writing the Karachi novel", but says she is drawn to engage with the city through fiction again and again. "No one knows where it starts and where it ends" she says thoughtfully, telling us: "the city is a different Karachi for every person who lives there." Hanif too says he "can't escape Karachi" however hard he tries: "I write about the characters" he states, "not the city per se: I use the Karachi of my imagination." Yet it seems both writers are inspired by Karachi's unique mutability: its conflicts, tensions and unresolvedness.
Hanif suggests Karachi's recent history makes it an extraordinarily fertile place to be a writer. He tells us half the population left the city immediately following partition – yet despite this exodus of people, the city "doubled in size" as waves of migrants entered Karachi to begin new lives. The rapid influx of new and diverse communities eager to make a home in a "city of opportunity" makes Karachi the perfect place to "form your own tribe" argues Hanif: crucially, a tribe "not based on ethnicity." It is a place to "get lost" in he says, because "nobody knows who you are."
Responding to the question of censorship, Shamsie suggests the risks of criticising the government of Pakistan are relatively low for the English-language novelist, saying "far more radical things get said by journalists." Yet she also proposes "there are internal self-censors in all of us." Hanif, who has worked as a journalist since 1996, puts the current situation bluntly: he says the media in Pakistan "refuses to cover the killing of protestors", to which Shamsie adds "people in the media are scared." It appears, then, that fiction can be a vehicle for saying what can't be said by the media in Pakistan.
The complexities and tensions of Shamsie's relationship with Karachi are revealed when she tells us: "on the one hand, one of my best friends was assassinated [in Karachi]; on the other hand, most of my happiest memories are there." And while Shamsie says she is "not able to completely let go of Karachi", she tells us she is embarking on "a new writing relationship" with London. Hanif – who has made Karachi his home – adopts a pragmatic approach: "some days you are scared" he tells us, "most of the time you get on with it."
___
Amy McCauley won a Northern Writers' Award (2016) and is Poetry Editor for New Welsh Review. You can read more of her writing here
Image: Jon Parker Lee