MLF Chapter & Verse
The Manchester Literature Festival Blog
Young Digital Reporter Review: Comic Art Masterclass with Kev F Sutherland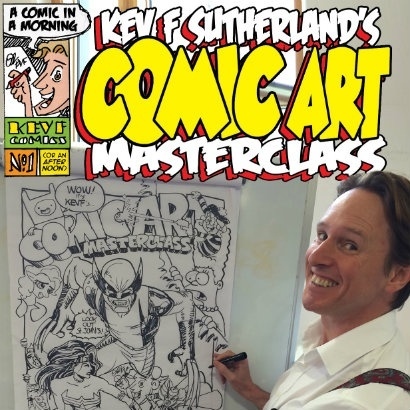 'Most characters are just a bunch of simple lines and shapes. Don't be afraid of keeping it simple.': Young Digital Reporter Abbie Phillips has a go at creating her own superhero at the Festival.
On Saturday 21 October, sixteen budding artists assembled at Manchester Central Library for a masterclass in comic book art. The class was taught by prolific comic book artist and comedian Kev F. Sutherland who has worked on comics such as The Beano, Star Trek and Marvel's Doctor Strange among others.
From the beginning, all of the kids were thoroughly entertained and engaged by Kev. He was as colourful and fun as the comic strips he creates. The room was either full of laughter or pin-drop quiet as the kids concentrated on their art.
Kev made it all look easy. Like a sorcerer supreme, he revealed how a character can emerge from a simple collection of shapes. You've seen the rabbit-out-of-a-hat trick a million times, but have you ever seen somebody make the Hulk materialise out of the Olympic rings? More importantly, Kev convinced everybody that they could do it too:
'Most characters are just a bunch of simple lines and shapes. Don't be afraid of keeping it simple.'
In fact, he was so encouraging that quite a few of the grown-ups, including me, got into the spirit and tried their hand at it too.
The kids, armed with a pencil, a piece of paper and a huge stack of comic book inspiration from Ant-Man to Adventure Time, got to work. The room brimmed with ideas and creative energy. Kev reminded everybody that it's okay to learn by copying, likening it to learning how to write: "It'd be like going into your English class, and your teacher saying "see the alphabet on the board? Well ignore it and start writing.'"
Minutes later, we were introduced to heroes and villains such as 'Fast Lane', 'Super Intelligent Goldfish' and 'Deadly Vincent Death.' Every character design was original and creative. You might have thought there were no more super powers left to explore, but these kids could prove you wrong.
Once they had their characters, it was time to put them into a story. Kev demonstrated how a comic strip can take a very simple sequence of events and turn it into something exciting in ways only a comic book can. He showed the kids how to emphasise a moment by making the frame bigger, how perspective can be used for dramatic and comedic effect, and how shading can help to set the mood of the story.
By the end of the event, each kid had designed his or her own comic book hero, given them a name and contributed to a comic strip anthology. I have no doubt that we witnessed sixteen comic book artist origin stories this weekend and I can't wait to see what they do with their creative talents in the future. If only we had a time machine…
___
Abbie Phillips has had an article published in Time Out London magazine and has been running her own YouTube channel discussing books, films and TV since 2014. You can watch Abbie's videos here or follow her on Twitter @TheStoryMagpie.