MLF Chapter & Verse
The Manchester Literature Festival Blog
Young Digital Reporter Review: Eimear McBride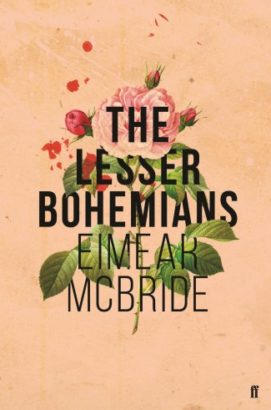 "Write about the truth of what it is like to be human": Our Young Digital Reporter Laura Cooper reports on our recent in-conversation event with Eimear McBride.
Eimar McBride is a novelist whose reviews are dogged by comparisons to James Joyce. Hardly a bad comparison for a writer early in their career, but it does limit perceptions of McBride's writing. McBride and Joyce do share their stream of consciousness style, nationality and themes of death, sex and Catholic guilt. But McBride's writing is quite different from Joyce's. She describes her writing as "coming back from where Finnegan's Wake went off to and turning 90 degrees back to the human". Her genius is to present the individual experiences of her characters with an astute emotional truth.
McBride stopped off in Manchester to talk about her latest novel The Lesser Bohemians with John McAuliffe at the Martin Harris Centre for Music and Drama. The concert hall was one of the best venues I have been to for a literary event; a hexagonal room full of pink light, the ceiling star-scattered like a fairy grotto. McBride arrives on the stage with subdued deportment, but when she reads from the novel she ignites. With eyes cast down and face up, the words pour out of her mouth, carried upon a remarkable rhythm. Her reading unlocks the musicality within her prose, a richer experience than reading it yourself. Having heard her read, I am sorely tempted to pick up her audiobooks of her novels to relive the magic of her voice. Her reading makes her training as an actor evident, which feeds into her writing. As she discusses with McAuliffe, McBride aims to capture the moment, without stretching it out unnaturally. She uses stream of consciousness writing to look at the totality of the moment, as an actor developing a character would.
The Lesser Bohemians is inevitably compared to McBride's debut, the dark and complex A Girl is a Half Formed Thing, with their young Irish heroines and themes of abuse and trauma. But as McBride said, their heroines are traveling on very different trajectories. The Lesser Bohemians explores what happens after trauma, with Eily, a newly arrived drama student in London, coming of age through relationship with an older actor with A Past. Compared to her debut, The Lesser Bohemians is a far less gruelling – a romance even – but with lots of sex. McBride writes sex scenes that I find the opposite of pornographic; emotional rather than anatomical. This is because, as McBride says, she writes about sexuality like she does everything else, with her characters as people rather than objects, a lesson we all need to heed in our day-to-day lives.
An audience member asked about the activist potential of her work, with its humane treatment of trauma. McBride does not try to dictate to her readers what they should do with her novels, but aims to "write about the truth of what it is like to be human" I believe that reading and listening to her work can help us empathise with other people's experiences, the crowning achievement of great literature.
___
Laura Cooper is an 18-year-old gap year student working at museums around Manchester whose interests lie in literature, natural history and the philosophy of science. You can read more of her writing here.