MLF Chapter & Verse
The Manchester Literature Festival Blog
Young Digital Reporter Review: Reader, I Married Him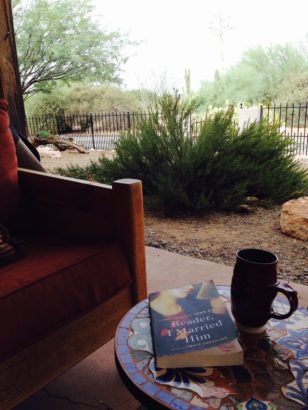 MLF's Young Digital Reporter Bryony Makin reports from Central Library, where enjoyed a night with Tracy Chevalier and Nadifa Mohamed.
Reader, I arrived late. Very late in fact. After being stuck in a gridlock below Deansgate I trudged through the downpour to arrive halfway through the event. In a convenient coincidence worthy of the novel itself I entered just as they were discussing Jane's desperate rainy trek across the moors, and how easy it was for any of us to reach that lowest point. Trying to seat myself quietly at the back, having missed tea and still trailing water, I rather self-pityingly agreed. Unfortunately I can report on only the second half of the celebration of Charlotte Bronte's powerful novel, but my cut-short experience proved thought-provoking all the same.
This is the fourth event I've attended at the Performance Space in Manchester Central Library and I'm impressed with its versatility and the distinctive staging of each one. Despite the high number of attendees the space felt homely and welcoming, with the armchair-seated speakers giving the impression of inviting you into a relaxed talk between friends, which seemed appropriate when discussing a text with such a strong personal attachment for many.
Authors Tracey Chevalier and Nadifa Mohamed mixed discussions of the original novel with extracts from their recent eponymous short story collection (and occasional Kate Bush karaoke) . Jane Eyre was examined from multiple angles; as a text, as a (questionable) feminist icon of a character, as a cultural artefact that permeates beyond the novel into wider society, as a doorway into further imaginative fiction and a springboard for ideas. I agree with Chevalier's statement that despite all the re-envisioning of the story and themes that have taken place, despite even the jarring and occasionally incomprehensible elements of the plot, 'the original never is hackneyed' and readers and creators keep finding themselves returning to the text afresh. Despite the centuries since publication the novel stands as vibrant and engaging as ever, and judging from this talk is still speaking strongly into the lived and imaginative experiences of innumerable readers.
Which is why I was a little disappointed in the lack of sustained discussion surrounding race and cultural identity from the panel. An examination was teased but not fully explored by a brief mention of Bertha Mason's status as cultural outsider, and other audience members apparently felt the same as at least half the questions touched on it. But despite the repeated audience questions the panel seemed rather reluctant to explore it further. It seemed a missed opportunity to examine an element present both in text and in many readers' interactions with the novel.
By the end of an enjoyable evening I had learned that the first drafts of Jane Eyre were composed in this very city (while Bronte helped her father recover from an eye operation), pondered whether Mrs Fairfax was really as ignorant about Rochester's marital status as her silence implied and reaffirmed that no reader ever manages to take St. John to their heart. The shared love for Jane Eyre was almost palpable and emanated from audience and speakers alike.
___
Image: @MozartandBanjo