MLF Chapter & Verse
The Manchester Literature Festival Blog
Young Digital Reporter Review: Susan Calman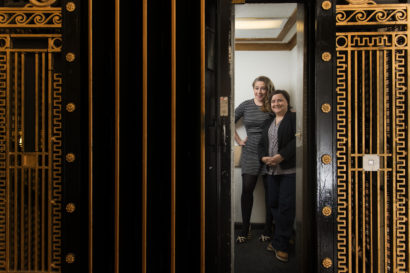 'I kind of forgot that anyone would actually read it': Young Digital Reporter Bryony Makin reports on our recent event with author and comedian Susan Calman.
'If I become upset,' Susan Calman warned the audience before her conversation with host Viv Groskop, 'I'm fine. You don't need to feel bad'. Which put a finger on the slight unease of turning up to hear someone you've loved for their comedy talking about the harsh realities of dealing with depression. It's not exactly a laugh-a-minute topic, despite the unusually high number of comedians affected by it. But as Calman said, 'it can get quite difficult but it's too important not to talk about' and she did so with impressive candour as well as her characteristic warmth and wit.
The evening was drawn from her "hugely, painfully honest and quite exposing' new book Cheer Up Love: Adventures in Depression with the Crab of Hate. While the niceness of literary festivals has proved an eye-opening contrast to the usual vicious back-stabbing lying just below the surface of comedy events, the book events have also forced Calman to face up to the reality of authoring a raw and personal piece of non-fiction. 'I kind of forgot that anyone would actually read it' she admitted when addressing the discomfort of drawing material from her deeply intimate experiences.
The supportive atmosphere in the theatre suggested that people were thrilled with Calman for opening up about the topic. Cheers and affirmations were shouted from the seats after difficult admissions from Calman, and she got a round of applause when she explained her desire to help others avoid the decades of horrible depression she suffered; difficult years that could have been averted if someone had just helped her properly from the start. The audience seemed pleased and excited to hear someone talk about the subject so openly, and as someone with depression myself I found it hugely affirming to be sat in a room with so many others positively engaging with mental health.
The discussion struck a fine balance between exploring Calman's lived experiences and opening it up to their wider implications in areas such as entertainment and social media. Although raw and emotional it thankfully never veered into the voyeuristic. Depression and self-loathing were never made into a spectacle to gawk at, and were discussed instead in a spirit of offering encouragement for others with similar experiences. Without trying to force comedy just for the sake of it, I'm not sure it's possible to make Susan Calman completely unamusing and despite the seriousness of the subject matter my row of seats was still shaking with laughter several times throughout the night.
I could happily listen to Calman's Glaswegian lilt all day, whatever the topic, but it was particularly great to hear her speak on this one. The crucially important message of the book and Calman's own story is that ''depression is not something that needs to be the end of everything'. This talk highlighted both how difficult it can be and how it is still possible to come back from those depths. Encouraging and hopeful, it brought me joy as well as teary eyes.
___
Image: Jon Parker Lee