MLF Chapter & Verse
The Manchester Literature Festival Blog
Review: An Evening with Alan Cumming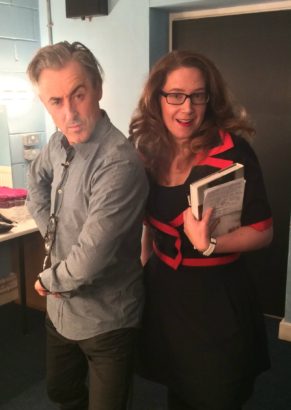 Our blogger Emily Morris reports back from a highly entertaining evening in the company of actor and writer Alan Cumming
Alan Cumming features regularly in my Saturday evenings, but it's usually on the screen of my laptop as Eli Gold, a wily, often rude but somehow loveable political campaigner, in CBS series The Good Wife. Tonight, he's appearing at the Contact Theatre for a Bookend event at Manchester Literature Festival.

As well as being an accomplished actor and political activist, Cumming is an author, having published a novel, Tommy's Tale and Not My Father's Son, a painful and beautiful memoir about finding out that his violent father was not, in fact, his father. Tonight, he's here to talk about his latest book, You Gotta Get Bigger Dreams, with Viv Groksop.

His latest is a book of autobiographical stories, each one inspired or illustrated by Cumming's own photography. It's memoir for the Instagram age, when tales are told in small, square shots, or "literal snapshots" as Cumming calls them. These are not polished, professional photographs (although Cumming can take those); they're spur-of-the-moment, blurry snaps.

"The whole book feels like being at a party," Groksop says.

This pleases Cumming, who says he gave the book "purposeful levity", wanting it to offer light relief after the heaviness of his previous memoir. In fact, when he published Not My Father's Son, Cumming was worried about revealing his serious side."Every now and then," he says, "I do something so challenging I think I can't do it, but I do it because I feel like that… It's vulnerability, and it's one of the most challenging things about being an artist, but also the most satisfying, when it works out."

This book was almost called I Wrote This Because Gore Vidal Told Me To, but that title was too long for the spine. Vidal told Cumming to stop writing novels and write about his fascinating life instead. (His next book, Cumming tells us, is a third person memoir, inspired by Christopher Isherwood.)

The ultimate title for this book was provided by Oprah Winfrey: Cumming took his friend Christopher, who loved Winfrey, to an awards ceremony she was attending. Christopher grabbed Winfrey when she was on her way to the toilet, telling her that it was his dream to have his picture taken with her. "You gotta get bigger dreams," said Winfrey. Of course, the hurried, out-of-focus photograph to match this anecdote features in the book.

Cumming regales us with more amusing tales: encounters with Elizabeth Taylor, Helen Mirren and Iman (apparently she's hilarious, as was her late husband). Speaking of Bowie, Groksop asks, was he an influence? Cumming says that yes, seeing someone so sexually and gender fluid and artistically experimental was an inspiration growing up, but that a bigger influence was Kate Bush; The Kick Inside came out when Cumming was fourteen and seeing a "pop culture poet" perform was transformative for him.

Inevitably, talk turns to the current, surreal state of politics. As a part-time New Yorker, was Cumming surprised by Trump's election?

"Oh my God, yes."

And he comes up with a comparison that's almost as surreal as the situation itself: Crocs.

Culturally, Cumming points out, we enjoy banding together and hating something or someone. While many people seem to hate Crocs, Cumming loves them (and even managed to convert Helen Mirren, who had previously thought them ugly).

"Both Brexit and Trump are to do with harnessing people and giving them something to hate," Cumming says, "that's how fascism happens."

The audience breaks into a round of applause and I guiltily join in; I have an ongoing family dispute over Crocs (I detest them, Mum thinks my son should wear them all summer long, she bought him some, they live at her house).

"Vigilant has never been more a part of my vocabulary," says Cumming, "Now, more than ever, I choose to give people a voice."
___
Emily Morris is a writer from Manchester. Her memoir of single parenthood, My Shitty Twenties, will be published by Salt next summer. She is currently writing short stories and working on a young adult novel. You can read more of her writing here or follow her on Twitter @MyShitty20s.
Image: Jon Parker Lee