MLF Chapter & Verse
The Manchester Literature Festival Blog
Review: An Evening with Zadie Smith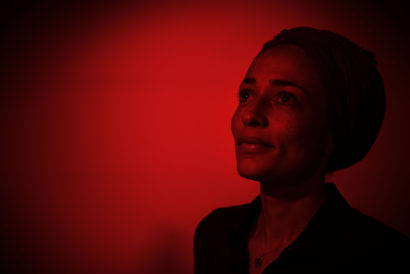 Our Young Digital Reporter Laura Cooper reports from a wonderful evening of literature and conversation with Zadie Smith
Having already appeared at events in Cambridge and London, Zadie Smith paid a visit to Manchester Central Library on 24th November for a conversation with Katie Popperwell to bookend the 2016 Manchester Literature Festival. She was here to promote her new novel Swing Time which follows two English-Jamaican girls who meet at dance lessons and take diverging paths in life: the best friend Tracey becomes a West End dancer and the narrator becomes the personal assistant of a Madonna-esque celebrity.
Smith herself acknowledges her subject matter could sound trivial in the context of Brexit and a Trump Presidency, admitting "it's an incredible time to be publicising a book about tap dancing". However, a broad conversation ranging from wasted talent, racist cinema and Beyoncé reveals Smith's genius in harnessing all aspects of the human experience, from pop culture to high philosophy, and using it to investigate what it is like to live in this world. Smith is an astute, wise speaker with an amiable wit that makes her one of our most valuable voices in these increasingly uncertain times.
The novel is named after the musical in which Fred Astaire notoriously performs the 'Bojangles of Harlem' routine in blackface. This led into a discussion of racism in entertainment. Smith recalled that as a child she looked for representations of people like her on film and television but often found them as the butts of jokes, so had to ignore or deal with this racism. Smith has her protagonist audition with the 'Bojangles of Harlem' routine as a way of taking on this racist past and present.
The novel is Smith's first to be written in the first person; despite this Popperwell comments that the narrator-protagonist feels like a ghost. Smith explains that she wanted the protagonist to be known and judged through her actions. Though some reviewers were critical about Smith choosing not to give her protagonist a political stance, Smith defended her decision by stating she operates at a level removed and prior to political identities; the true self beneath this surface.
Popperwell suggests that whilst N-W is about class, Swing Time is about economics. Smith adds that it is principally about the crime of people not being able to express their capacities. Swing Time interrogates these issues, asking what people deserve because of their talent, and if those with no talent really deserve nothing.
When Popperwell turned to the audience for questions, a man who had clearly thought long and hard about his question asked Smith, in light of her recent article on dancers for the Guardian, what dance routine she would most like to be able to master? The audience laughs, but this feels like a question you could ask Smith, a writer without a speck of snobbishness on her. She picked Beyoncé's "Single Ladies" routine, as its sense of moving backward makes it deceptively difficult to perfect.
What I found most beguiling about Smith was that despite her fame and accolades she still retained an open, humane honesty which only adds to her sagacity – it's an honesty that is needed more than ever in a post-truth age.
___
Laura Cooper is an 18-year-old gap year student working at museums around Manchester whose interests lie in literature, natural history and the philosophy of science. You can read more of her writing here.
Image: Jon Parker Lee