MLF Chapter & Verse
The Manchester Literature Festival Blog
Q&A: Michael Symmons Roberts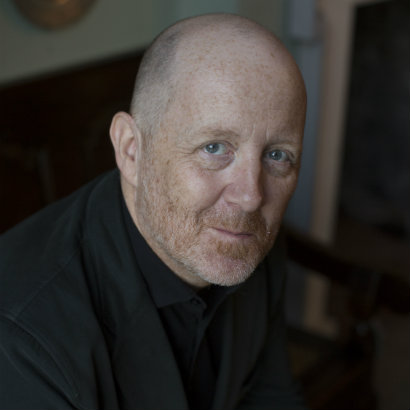 Michael Symmons Roberts launches his seventh collection of poetry, Mancunia, at this year's Manchester Literature Festival, where he – and others – will perform these new poems of the city. Michael's six previous collections, including Drysalter and Corpus have been awarded the Forward Prize, the Costa Poetry Award and the Whitbread Poetry Prize. He has published two novels and is also an acclaimed librettist, broadcaster and dramatist. He is Professor of Poetry at Manchester Metropolitan University. We spoke with Michael about the city, his inspirations and the role writers play in society's broad conversation.
Place is a recurring theme in your work, and your new collection addresses both the city that we live in and the unreal city of the Mancunian mythos. I wonder if you could talk about the process of creating poems that navigate and reflect upon the real city alongside this more spectral one?
It was important to me that the real Manchester should be recognisable in this book, but equally important that Mancunia is not Manchester. It is, as you say, an 'unreal city of the Mancunian mythos', but some of that mythos is personal. Anyone who knows a city builds a personal map of it, with their own places and routes and associations and history. Some parts of that personal map overlap with the public maps, but often these personal maps are strange and particular.
My map is influenced by personal associations and family stories, plus the fact that I've been working on some broadcast projects on Thomas More's Utopia, so Mancunia is seen through that lens too, as an imagined city with utopian and dystopian potential. The process of mapping out the poems was intuitive rather than systematic, but once I had a sense of what this Mancunia might contain, poems started to suggest themselves by connection and suggestion, including linguistic riffs on the book's title which led to poems with titles like Manuka, Manumission, Manchuria.
Your event at this year's Festival will be a multi-artform event; what can people expect on the night? And what are your thoughts on the challenges and rewards of performing poetry more generally – how can we create a meaningful and vital experience for a poetry audience?
I'm really looking forward to the MLF event, because alongside my reading from Mancunia there will be other readings from the book by actors, plus a response by a film artist in collaboration with the north-west film archive. Both these connections came from colleagues at MMU where I teach
Poetry readings can be odd events, especially if you – as an audience member – don't know the poet's work, but there are many poets today for whom performance is an essential part of their work. There's no single recipe for a meaningful and vital poetry reading, but some ingredients are essential – the poet should be willing and able to treat it as a performance, to make an effort to communicate and connect with the audience, but the most important thing of all is the poems. If the poems don't work, then no amount of performance skill can compensate.
A theme of this year's Festival programme is dissent, political engagement and writers responding to current affairs in their work. How does writing – and reading – give us a place to confront society's problems and advocate for change? And how does this play out in your own work?
Writers are part of culture – they live in it and work in it – so they have as much right, and duty, as any other citizen when it comes to activism, comment, calling for change. I'm wary of over-claiming for what this can achieve. Writers are part of a much bigger conversation, and there are many voices out there. At its best, a book or play or film can focus and sharpen the angle on a particular historical moment, but there's always a complex negotiation between the quality and integrity of the writing and the urgency of the issue at hand.
What writers and/or artists (old or new to you) have inspired you in this regard?
The poets who have inspired me have generally been those – from any century – who sought to reach beyond the purely personal or solipsistic, who saw the making of poems as an exploratory process, a way into territory at the edge of language. It's a long list, but would certainly include poets like Marianne Moore, Elizabeth Bishop, John Berryman, David Jones and John Donne…
What are you working on now?
I'm working on a third novel, which I hope to finish this year, then early next year I start work on a new dramatization of Paradise Lost for Radio 4. And the poems are always there too, at the heart of it all.
– Kate Feld
Join us for Michael Symmons Roberts' Mancunia on Friday 20th October, 6:30pm at Central Library. Tickets are £7/£5 and can be booked here.