MLF Chapter & Verse
The Manchester Literature Festival Blog
Q&A: Raymond Antrobus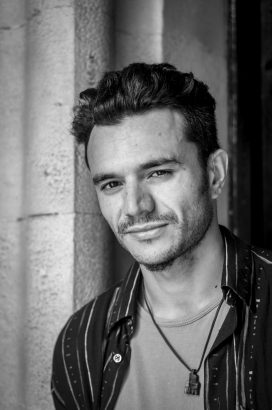 Poet Raymond Antrobus starts off our series of interviews with writers appearing in this year's Festival. He is a British-Jamiacan poet, performer and educator who has published the chapbooks Shapes & Disfigurements of Raymond Antrobus (Burning Eye Books) and To Sweeten Bitter (Out-Spoken Press) and co-curates the London spoken word poetry show Chill Pill. He is a 2017 Jerwood Compton Poetry Fellow, and his debut collection is forthcoming with Penned in the Margins in 2018. 
You're reading at the Festival as part of our Poets of the New Generation event, showcasing writers from The Complete Works poetry mentoring scheme. How did you get involved with that, and how has it helped you?
Firstly, I can't wait to read at Manchester Literature Festival. The Complete Works was on my radar for years. Many of the poets who came through the scheme were peers, mentors and inspirations of mine. More than anything the program has boosted my confidence as a poet. It has given me a space to develop, not just my writing but my writing community and that's something every writer needs.
You've done a lot of work with spoken word and performance poetry as well as publishing widely in print and online. We sometimes hear people talk about a divide between "performance" and "page" poetry – what has been your experience of this? How do these areas interact for you? 
Since I started writing poetry with an audience in mind, a lot of the poets I admired were performers of poetry – from Dylan Thomas to Jean Binta Breeze. I began to realise that the discussion of "page" and "stage" poetry was being had by people who were really talking about race, class and education. It seemed the implication was, if you write for the page, you're writing for educated and affluent white people, but if you perform Spoken Word, you're performing for everyone else. However, I think what is understood now as "British Literature" is expanding in a way that is less condescending and more inclusive.
A theme of this year's Festival programme is dissent, political engagement and writers responding to current affairs in their work. How does writing – and reading – give us a place to confront society's problems and advocate for change? And how does this play out in your own work?
Good question. I think as a teacher of poetry and spoken word I use my skills to engage with people at a range of levels in society (from schools to prisons and youth clubs, as well as festivals, markets, old people's homes etc.). Poetry has led me to meet people from all walks of life. "Current affairs" is such a wide idea, but in my work as a teacher I look for the voices that aren't being aired and I try to use my access (stages for showcases or publishers for anthologies) to give them a space. Some former students of mine have credited their engagement with poetry and spoken word as an essential building block for them learning to assert themselves in a language they didn't have until they engaged with the art form. Some of these students grew up with a lot of things in their environment against them, but they developed skills they could apply to job or University interviews and some of them succeeded. I do not separate being a teacher from being a poet or being an activist because so much of my writing is informed by these kinds of interactions with people in my local, national and international community.
What writers and/or artists (old or new to you) have inspired you in this regard?
Too many to mention, but Jacob Sam La Rose was the first person to let me see what it is poets do in classrooms. Malika Booker was my first poetry mentor, followed by Roger Robinson. It was Peter Kahn, a teacher and poet from Chicago, whose support took me to the next level as he mentored me through my Spoken Word Education MA at Goldsmith's University. I then went on to teach for a year as the lead educator of that program. In terms of poets who have inspired me through the page in poetry and activism I'd say, Adrianne Rich, Audrey Lorde, Michael Rosen, James Berry, Martín Espada, Joelle Taylor, Jon Sands, Keith Jarrett, Dean Atta, Indigo Williams, Anthony Anaxagorou… Like I said, too many to list them all but I'm lucky to have so many names to reach for.
What are you working on now?
I'm working on three different manuscripts in prose and poetry. I also have some ideas to write for children. I just won the Jerwood Compton Poetry Fellowship off the back of publishing To Sweeten Bitter, my latest book of poems. I'm developing a lot of different ideas which are exciting me at the moment and I don't want to give it away while I'm still living with this energy of what's possible now. I just finished co-editing the Deaf Issue of Magma with Lisa Kelly, that's out in November, I'm very proud of that. I'm also touring To Sweeten Bitter with Out-Spoken Press around the UK. I'll be in Manchester again, as well as Southampton, Plymouth, Cheltenham, York, Brighton, Bristol and Leicester from September through November. Watch this space.
– Kate Feld
Raymond Antrobus appears in Poets of the New Generation at this year's Festival, alongside anthology editor Karen McCarthy Woolf and featured poets OmiKemi Natacha Bryan and Yomi Sode. The event takes place on Sunday 22nd October at Gorilla; Tickets £10/8; booking and info here.