MLF Chapter & Verse
The Manchester Literature Festival Blog
Q&A: Ayọ̀bámi Adébáyọ̀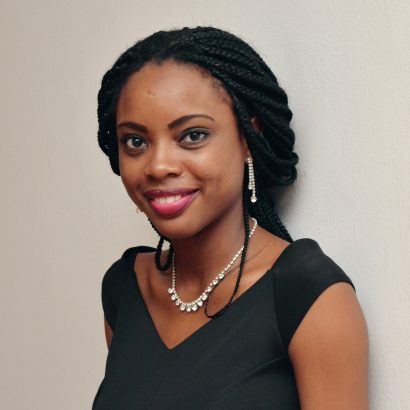 Ayọ̀bámi Adébáyọ̀ was born in Lagos. Her debut novel, Stay With Me, was shortlisted for the 2017 Baileys Prize for Women's Fiction. A warm, funny and engaging read, Stay With Me explores the complexities of marriage, motherhood, family and grief amid the social and political turbulence of 80s Nigeria. New York Times book critic Michiko Kakutani called it '[A] stunning debut novel…. At once, a gothic parable about pride and betrayal; a thoroughly contemporary—and deeply moving—portrait of a marriage; and a novel in the lineage of great works by Chinua Achebe and Chimamanda Ngozi Adichie."
She holds BA and MA degrees in Literature in English from Obafemi Awolowo University, and holds an MA in Creative Writing from the University of East Anglia where she received an International Bursary for Creative Writing. She currently works as a fiction editor for Saraba magazine. We talked with Ayọ̀bámi before her appearance at this year's Festival about her book, her writing and what she's working on now.
Your brilliant novel, Stay With Me, explores the relationship between an individual and their family and the pressures on women in the deeply patriarchical society of 1980s Nigeria. Can you tell us a bit about how this story came into being for you? Was there anything in particular you encountered that inspired it or that it evolved from?
When I was in my late teens/early twenties, a couple of friends passed away suddenly. Although the events were quite distressing, after a while, as tends to happen when one is once or twice removed from grief, I stopped thinking about them all the time. Still, whenever I saw their mothers, I was moved by how they'd become physically transformed by what had happened to their children. I also found myself questioning why these women were expected, after a period of mourning, to continue life as normal. In 2008, a few days after an encounter with one of them, I wrote a short story that would later morph into Stay With Me.
The book is something of a two-hander, shifting perspective between Yejide and her husband Akin to create a portrait of a marriage in transformation. Why did you choose this form to tell the story?
After I'd worked on Stay With Me for about a year, I realised that while the reader might know what transpires in the marriage from Yejide's point of view, I needed to integrate Akin's perspective into the novel for them to fully understand the marriage's dynamics.
A theme of this year's Festival programme is dissent, political engagement and writers responding to current affairs in their work. How does writing – and reading – give us a place to confront society's problems and advocate for change?
By taking us on journeys that enable us to imagine the lives of others and contemplate worlds outside our usual purviews, books can create room for empathy to flourish. That ability to recognise the humanity of people whom we might have seen only as different is essential if prejudices are to give way.
What writers and/or artists (old or new to you) have inspired you in this regard?
Fela Kuti, Ama Ata Aidoo, Margaret Atwood, Wole Soyinka, Chinua Achebe and Cheik Hamidou Kane.
What are you working on now?
I'm working on my second novel, I'm also tinkering with a couple of short stories.
– Kate Feld
See Ayọ̀bámi Adébáyọ̀ reading alongside fellow Nigerian novelist Chibundu Onuzo on Wednesday 11th October, 6:30 pm at Waterstones Deansgate. Tickets £7/£5, book via Quaytickets on 0843 208 0500 or online here.