MLF Chapter & Verse
The Manchester Literature Festival Blog
Q&A: Megan Hunter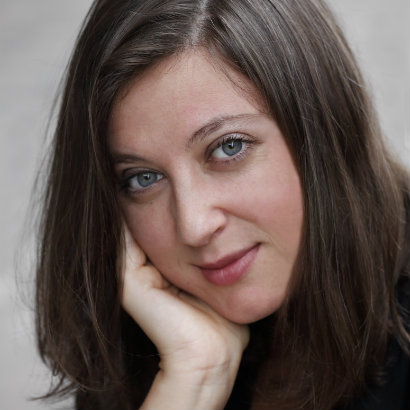 Megan Hunter is the author of The End We Start From, a debut novel that tells the story of what befalls a mother and her new baby when London is hit by a cataclysmic environmental disaster. Beautifully written, with a narrative that unfolds as a series of poetic fragments, the book has received rapturous reviews in the press, and the film rights have been snapped up by Benedict Cumberbatch's production company. We caught up with Megan in advance of her appearance at the Festival to talk about starting her career with a bang, the appeal of the fragmentary form, and the writers whose creative insurrection inspires her.
The End We Start From is such a moving, wonderfully strange and spare work. How did the book take shape? And how does it feel having it out in the world?
The book was written fairly quickly, after many years of writing in different forms. It started out as a section of a larger work, and the idea, voice and structure all came together from the beginning, something I've never experienced to the same extent before or since. But there was a lot of work that I can now see formed the book's foundations, principally writing poetry about maternal experiences, and an interest in creation mythology.
In terms of having it out in the world, from the start the book seemed to have its own momentum, and now it feels like something that is quite independent from me, in a way. I'm not sure how normal this is, having never had a book published a book before.
We seem to be seeing more works published in fragments, both in fiction (Dorthe Nors, Jenny Offill) and nonfiction (Rivka Galchen, Sarah Manguso and the rise of the fragmentary essay). Can you talk about why you used a fragmented form to tell this story? And do you think there is something particular about the fragmentary that fits the literary zeitgeist?
I think, for me, the form came first. I was reading work by David Markson, Jenny Offill, Maggie Nelson and Anne Carson and just fell in love with the poetic influence on prose writing in their work, the distilled and exacting minimalism of a sentence that is set in plenty of white space. I started writing in this form, but for me there had to be a driving narrative to give the prose the energy it needed. The story of a mother who is involved in a disaster came to be ideal for this, as her thought is naturally fragmented. There is no need to artificially impose that on the writing, because it's intrinsic to her situation.
I think there is certainly something to be said for the way in which we have become used to consuming small amounts of text at a time – on tweets, instagram captions etc. Funnily enough though, I'm absolutely useless at those forms, as I can spend weeks crafting a single sentence (in my work) and can't spend that much time on social media or I would never write! Also, people don't seem to read my book in that way: most people seem to read it in one sitting, which also suggests that the consumption of the work isn't as fragmentary as its production – I was certainly writing it in the slivers of time available in-between looking after children and doing a day job.
A theme of this year's Festival programme is dissent, political engagement and writers responding to current affairs in their work. How does writing – and reading – give us a place to confront society's problems and advocate for change? And how does this play out in your own work?
I think that art is inherently political, because everything is – politics is about the lives we lead. But I tend to think a lot about the possibilities of art through form, in terms of the way it can change the way we think by revolutionising structures of language and narrative, often in subtle and unexpected ways.
What writers and/or artists (old or new to you) have inspired you in this regard?
See above! Also so many more – including Claudia Rankine, John Berger, Jean Rhys, John Ashberry, Frank O'Hara…
What are you working on now?
I am working on stories and also a novel. I'm afraid I can't say much more than that because I'm superstitious about exposing things to the light before they are ready!
– Kate Feld
Megan Hunter appears alongside Omar El Akkad, author of dystopian debut novel American War, at Waterstones Deansgate on Monday 9th October at 6:30pm, in an event hosted by journalist Anita Sethi. Tickets are £7/£5 and can be booked via Quaytickets on 0843 208 0500 (calls cost 7p/min plus connection charge) or may be booked online here.