MLF Chapter & Verse
The Manchester Literature Festival Blog
Q&A: Mike McCormack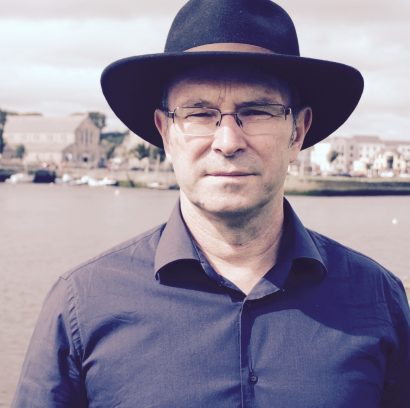 'The Angelus bell ringing out over its villages and townlands over the fields and hills and bogs in between, six chimes of three across a minute and a half, a summons struck on the lip of the void…'
So begins Mike McCormack's Solar Bones, which captures the whole sprawl of a life in one exhilarating sentence. It was called 'an extraordinary novel' by The Guardian, won the 2016 Goldsmiths Prize and 2016 BGE Irish Book of the Year Award, and was longlisted for the 2017 Man Booker Prize. Mike's previous, highly acclaimed books include Getting it in the Head, Notes from a Coma and Forensic Songs. We caught up with Mike to find out more about his writing and his inspirations.
Did you set out to write a novel in a single sentence, or did the form spring more organically from the story you were telling?
The single sentence format came very organically from the voice of Marcus Conway. His rhythms and his cadences picked themselves up for me and ran away with the book, ran away with the story. It certainly was not a case of me trying to experiment with 'I wonder how far can I go with this sentence thing.' It was very much a case of 'In the beginning was the voice.' And that voice dictated the style. And of course there is a certain circumstance to Marcus's voice but you will have to read the book to find out what those circumstances are.
Solar Bones has been a huge success and it's wonderful seeing it get the Booker longlisting and reach a bigger audience. But according to the rules it was only eligible to be considered for the Booker when it was published by a UK publishing house – not when originally published by Tramp Press in Ireland. What do you make of this?
The Booker Prize is free to make whatever rules it wants for its own prize but I think now is the right time to acknowledge that small, independent presses are publishing exceptional work – experimental and more adventurous than the mainstream publishers. And in the scale of things, Irish publishers will always be a home to such smaller ventures. It seems to me to be a bit of a nonsense that these publishers who publish out of Ireland but into Britain should not be given consideration for major prizes.
A theme of this year's Festival programme is dissent, political engagement and writers responding to current affairs in their work. How does writing – and reading – give us a place to confront society's problems and advocate for change? And how does this play out in your own work?
For me the quest in writing a book is to find that character around whom it all turns, the focal point of their own world. And it just so happens that the characters who have come to me in my last two novels –Solar Bones and Notes From A Coma – have come with a definite political involvement. But their politics is not the politics of grand narratives – neither left nor right, nationalist or internationalist – their preoccupations are right down at the narrowest level – their concern seems to be with the freedoms and responsibilities of citizenship, how is it menaced, how is it safeguarded. It is not a theme I spend too much time thinking on myself but it does seem to be a continual preoccupation of my characters. And the citizen is the basic political integer so maybe it is fiction's job to keep reminding us of that.
What writers or artists, old or new to you have inspired you in this regard?
At the moment I am listening to the early songs of Paul Weller – brilliant songs fuelled by righteous anger and carried on memorable tunes: 'Sup up your beer and collect your fags, there's a row going on down near Slough.' If there's a better opening line to a song anywhere…
What are you working on now?
I have a short story to complete, the deadline passed a few days ago so I have to get back to it the minute I finish filling in this questionnaire…
– Kate Feld
Mike will be reading alongside fellow Irish novelist John Banville at our event on Tuesday 10th October at 8pm at the Martin Harris Centre at the University of Manchester, hosted by author Ian McGuire. Tickets are £10/£8, or free for our Get Closer members. Book by ringing Quaytickets on 0843 208 0500 (calls cost 7p per minute plus connection charge) or buy tickets online here.