MLF Chapter & Verse
The Manchester Literature Festival Blog
Review: Will Self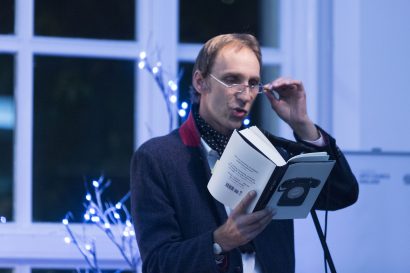 Our reviewer Henry Cockburn is vastly entertained by an evening with Will Self
Self lumbers onto the stage dressed in a quasi-uniform of Napoleonic blue and high-throated red, mutters to himself through a jawful of gum, then plays peek-a-boo with the armchair. The effect is of a large off-duty circus monkey.
The audience leans in, unsure whether to rattle the cage or throw peanuts to make him do something. These are Self veterans and there's a collective holding of breath, a waiting to see if we've caught him on an off-day and are about to spend the next hour being pelted with faeces (a word of warning—for Self, there is such a thing as a stupid question). It's a masochists commune—many around me look like they'd enjoy nothing more than for one of his steaming nuggets to drop right on their greying crania. In a sense, you do have to be a little masochistic to put yourself through Self's trilogy of modernist streamofconsciousness doorstops. They're not easy reads but then they're not meant to be. The most recent tome, Phone, is the reason we're all here.
If this Lugubrious George seems relatively sedate tonight, we soon find out that the guy's whacked out on nicotine — his gum is the strongest on the market. 'At six milligrams, it's drugs', he says, comparing the experience to a shaman getting razzed on fermented jaguar blood.
We start out, as does the book, with Manchester. Our city is familiar to Self — his habit of fleeing his beloved London to write in provincial metropolises having brought him here numerous times. Physical knowledge of an area, he feels, is the only way to achieve a realistic sense of place in fiction and, needing somewhere to situate his opening, he picked Manchester, realising he's well enough acquainted to give the thing some verisimilitude. Though he suspects we think he's a 'southern arse' anyway. Self begins the reading — a nude psychiatrist, the ageing Zack Busner, surveys tables of continental breakfast in the Deansgate Hilton. When the manager tries to eject him, Busner wards him off with nothing but a ringtone. Self's prose is characteristically ample. As a bonus we get to hear his best Manc accent — on guts alone, he's now one of us.
Journalist Alex Clark presides over the evening, and unobtrusively steers Self through familiar topics — walking, his turn to modernism, the impact of the web and technology on fiction, and psychogeography, to name a few.
It's on the last of these points that we start to see his wackiest side. Asked about the lack of women practitioners of psychogeography, Self advocates a night-time curfew on men leaving their homes three times a month so that women can practise their transgressive urban drift in relative safety. Cue a roomful of gentle titters. 'No, I'm being deadly serious.' Cue tumbleweeds. That's a bit unfair — a couple of beret-wearers applaud.
Discussing the French situationist Guy Debord, Clark asks Self whether he thinks the internet is bringing about a kind of mass spectacle. 'We've always lived in a spectacular society', he replies. Looking down at the rows of faces all fixed, open-mouthed at the stage, it's hard not to wonder whether, for us at least, the spectacle comes in giant sesquipedalian form.
Oh, and he told a woman that her views and dress sense would soon be consigned to a folk museum. Perhaps the gum was wearing off.
Henry Cockburn is a student at The University of Manchester's Centre for New Writing. This piece also appears on The Manchester Review.