MLF Chapter & Verse
The Manchester Literature Festival Blog
Review: Elif Shafak and Nadeem Aslam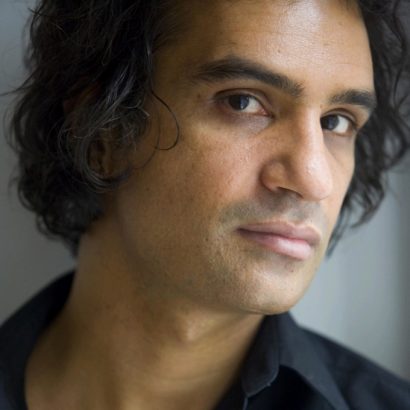 Maryam Hessavi is inspired by our event with novelists Elif Shafak and Nadeem Aslam
"Where to begin" – was the place at which Erica Wagner initiated the event, setting up the primary concerns and philosophical line of conversation that would formulate an intellectually invigorating and moving discussion between these two powerful writers, Elif Shafak and Nadeem Aslam. She began by quoting Nadeem's essay, considering 'literature [as] a public act and a powerful instrument against injustice'.
Building on this, Nadeem began by recounting his experience as a student here in Manchester over thirty years ago, where 'the very basic layers of [his] consciousness and [his] personalities were laid down'. Nadeem talked about Viraj Mendis, who sought sanctuary, at a church in Hulme, from deportation and fear of death after overstaying a student visa. After having been granted asylum from the priest, many solidarity marches, and slogans painted on the university building saying 'Viraj Mendis Won't Go', Viraj was eventually deported. 'Some weeks later' Nadeem says, 'someone had painted over the word "Go" and replaced it with "Be Forgotten". "Viraj Mendis Won't Be Forgotten"…I remember writing in my journal…that this is the kind of novels I will write'.
With a marked sense of respect and camaraderie between the speakers, Elif then proceeded to share her frank and philosophical thoughts on the importance of questions, for writers: 'I'm interested in asking questions, and hopefully trying to open up spaces where a diversity of opinions can be heard. I like that. But I don't like it when writers try to teach something. I don't like it when writers try to preach something. I like it when we ask these questions and always leave these answers to the readers'.
Elif spoke of the need for a more nuanced sub-politics and form of questioning within that scope: 'coming from the women's movement and feminism – what it taught us was that politics…is also about our daily life, about our kitchens, bedrooms…' a knowledge that fuels the perpetual labour of 'trying to bring the periphery to the centre  – to me that's very important'.
Discussing the necessity and therefore motivation through her work to encourage a greater multiplicity of voices, Elif was refreshingly assured in her views: 'I don't like dualities. Can there be a third way, a fifth way, an eighty-eighth way!? Why not?' She quoted Adorno, saying that the 'intolerance of ambiguity is the sign of an authoritarian mind'.
It was evident through the question and answer session that both writers converged on intentions and ideas, as Erica noted that they had both presented the 'idea, raised in different ways, about the warring [and subversive] function of the story'.
In considering ideas of identity and the individual, Nadeem quite poignantly commented: 'my work is informed by the specific reality of who I am – but then there is a bigger thing that I am aware of…there is a We, there is an Us'.
Thinking about the 'imaginative space' from which their stories come to life, Nadeem was plentiful (and far too modest) in opening himself up to the room: 'I always say, my rivers are imaginary, but the fish in them are real…I always say I'm not very imaginative…at the very core of myself, I'm not a very confident person…so I need permission from the real world'.
Both writers expressed their convergence on matters of literature, politics, sociology and authorial intention – with an insistent recurrence from both sides of the conversation to write about the connective forces that journey between the borderlines in their work and the real world.
The event ended all too soon, with a hearty round of applause from a full room and a book signing for which both authors were generous with their time and attentiveness to guests. Both were extremely gracious and humble about the ostensible admiration for both their works and intellectually grounded contributions.
Elif Shafak is an award winning novelist and best selling female author in Turkey, despite her having much political turbulence with the government there. Her newest novel Three Daughters of Eve traces a multiplicity of female perspectives from diverse Muslim backgrounds, with Oxford as a safe space to ruminate on the questions that they raise. Likewise, Nadeem Aslam is a celebrated novelist, originally born in Pakistan. His recent novel The Golden Legend forms an attempt 'to try to understand how one thing in the world is connected to another'.
Both writers tread the lines between and through dominant and habitual political discourses, particularly in the non-democratic circumstance throughout many countries in the world, where an author's 'fiction becomes even more political' in trying 'to create spaces that are not allowed elsewhere', and in trying 'to give voice to voices that are not heard elsewhere', as Elif puts it, by asking questions that 'we' are otherwise, not often permitted to ask.
Maryam Hessavi is a student at the Centre for New Writing. This post also appears at The Manchester Review