MLF Chapter & Verse
The Manchester Literature Festival Blog
Review: Joanna Moorhead on Leonora Carrington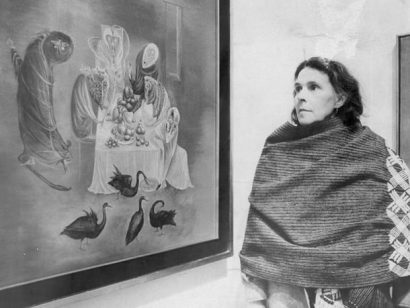 Young Digital Reporter Maygen Senior reviews our event with author Joanna Moorhead
On Tuesday night, I entered the hidden treasure of the International Anthony Burgess Foundation in Manchester. The room was full of people chatting to friends, an electric buzz of conversation, and the bare walls of brick and red seats evoked an atmosphere of warmth. The white spotlights and central bright screen juxtaposed with the walls, making we wonder about the film-like quality the setting had already evoked. I introduced myself to the person I was sat next to. Emma, who was very friendly and kind, told me that she was an artist, and I enjoyed the thought that the people surrounding me shared my interests, and were all enamored with literature, history, art: stories.
The reading of the book, The Surreal Life of Leonora Carrington, was pouring with vivid description that created pictures effortlessly in my mind. The images of "glimpsed courtyards with fountains", houses "laced", and inside a "cave like darkness from which a tiny figure was emerging" were so delicate, and real. The figure was described as having "round, piercing eyes". Leonora Carrington. I particularly liked the idea that Joanna had to follow her across a "threshold". The idea that Carrington's home, life and story was a whole other world to be explored.
During this discussion, Joanna had a calm, tranquil, cool vibe about her. And as the evening went on, I saw more and more the depth of her interest, and felt mine grow and grow. The audience was fully engaged, laughing at the disapproval by Leonora's father of her first husband in the 1930's who happened to be a German, an artist, and did I mention he was already married? Another hint of comedy was released when Joanna told us how Leonora was yet again in another country, when along came her nanny, who had been sent by her parents in a last attempt to bring her home, on a ship in the middle of the war! Carrington even once said that she was leaving all these places to escape Hitler, and her father, but her father more so.
Joanna lead on to presenting some pictures on the screen, and I adored the vintage style, black and white, the twinkle still bright in their eyes. The story immersed me and through the spotlights and old photos, I felt like I had travelled into another time. Moorhead later enjoyed the expression our presenter, Kate Feld, conjured up about the last picture shown to all of us. It was a picture of Leonora, as Moorhead had known her, in her eighties, simply sitting in her art studio. She was herself, as she had always been. Unafraid to be a certain way; a character of bright colours and ideas, in a world that was just too black and white to comprehend.
Leonora was born in Lancashire, and having family who live there, I like to think of it as a second home. Throughout the evening, I found little connections that made me feel so much more engaged with Leonora Carrington's life and story. There were love triangles, friends, travels, struggles and lonely times, but the story of Leonora's life, and Joanna Moorhead's uncovering of it all, is exciting, inspiring and beautiful. It is a story about having the courage and conviction to fully and truly be yourself, no matter what others think, and one I know I'm not likely to forget any time soon.
Maygen Senior is a Digital Reporter at Manchester Literature Festival