MLF Chapter & Verse
The Manchester Literature Festival Blog
Review: John Banville and Mike McCormack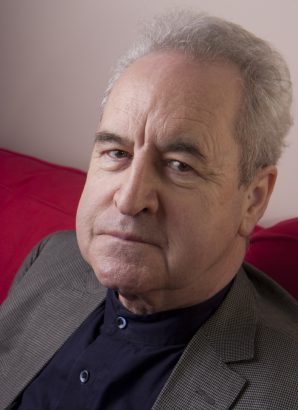 Young Digital Reporter Alex Swinton reviews John Banville and Mike McCormack in conversation with Ian McGuire
On Tuesday the 11th of October, I had the pleasure of attending a discussion between John Banville and Mike McCormack, ran by the Manchester Literature Festival.  John Banville (pictured) has written 16 novels over the course of around 45 years, and has amassed over 25 different awards. He has been compared to Vladimir Nabokov. His precise prose manages to have a sense of great imagery, as if his writing is a piece of art, which still manages to convey a story without being too poetic.
Mike McCormack, on the other hand, has written 2 short story collections and 3 novels. He has won several awards, including "Novel of the Year" by the Irish Book Awards. Although he was born in London, McCormack draws greatly from his Irish ancestry in both his writing style and his elocution. The author's wonderful blend of experimental and traditional feels very refreshing, and is a joy to read.
Banville's new novel, Mrs Osmond, responds to Henry James' The Portrait of a Lady. Although writing as a continuation of a different writer's story, the prose still follows Banville's personal style. Although Mrs Osmond certainly feels more modern then it's prequel, it hasn't been "modernised" or "updated", and is written for the same period. The extract that was read was full of imagery and brought the scene to life, but still managed to be personal and grounded. The blend of Irish English phrases with very traditional English vocabulary felt wonderfully refreshing to hear.
McCormack's novel Solar Bones is almost completely different. Written from the perspective of a ghost, the whole novel is one long sentence extract, with not a full stop in sight. The stream of consciousness is free flowing and easily segues from one idea to another. The novel is written under the principle that a strict form may be beautiful, but doesn't show true life. For an honest example of thought and feeling, you must have mess and clutter, where not every word is needed or even wanted. The fragments of ideas flow so coherently that it could almost be mistaken for a word for word recreation of the exact thoughts running through McCormack's head.
Although these writers may appear to be at two ends of a spectrum, what makes them fascinating is the similarities they have. The slightly unusual dialect that the novels are both written in blends beautifully with both styles, enhancing the experience even further. As Banville said, prose should be a pane of glass that you look through and don't see. But in fact, it's a lens, that distorts in good and bad ways.
This, I think, is at the heart of what makes both novelists excel. At the core of the Irish literary scene is experimentation and creativity, something that both styles benefit greatly from. The writing manages to feel foreign and familiar at the same time, something that is simply extraordinary.