MLF Chapter & Verse
The Manchester Literature Festival Blog
Review: Kamila Shamsie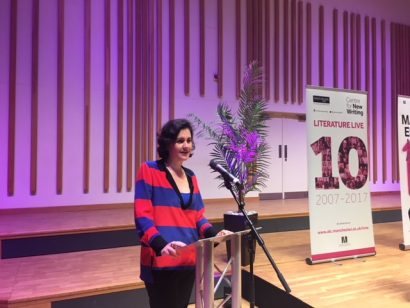 MLF Blogger Abi Hynes enjoys a spirited conversation between authors Kamila Shamsie and Jeanette Winterson at this year's Festival
Kamila Shamsie's latest novel, Home Fire, is a contemporary take on Sophocles' Antigone, which takes the guts of the story – the choice between state and family; the lengths we might go to for love and loyalty – and transplants them into the context of the radicalisation of young Muslims in Britain.
She opened the event by reading an extract: a scene in which the central character Aneeka suffers a long and exhausting interrogation in an airport before being allowed to board a plane. Even here, though the setting is poignantly current, it was clear that Shamsie's interest really lies in the relationship between Aneeka and her siblings. It's a theme that she has returned to several times in her novels, so it's no wonder that Antigone appealed. Her reading (though short – I would have happily broken up the conversation with more of it) captured something of the specialness of sibling relationships; in the airport, Aneeka hears her sister's voice in her head and uses it like a talisman, even though it's clear they often disagree. "There will be no more brothers," says Antigone. The shared roots that bond you to each other are often as tangled as they are irreplaceable.
Both public intellectuals as well as novelists, Shamsie and Winterson were both interesting and insightful on the subject of the role of art in politics. Shamsie doesn't believe that writers should be confined by the news headlines, but she refuses to stand on the sidelines of history. "The story across the world at the moment is: 'The world was golden. We were golden. And then these strangers came from elsewhere, and they ruined us.'" It's a powerful story, and powerful stories are needed to counter it, which is where a novelist can make herself useful. Sometimes people are able to look at a thing more clearly if you give it to them indirectly, Shamsie told us. You don't have to listen to her for long to recognise that this is key to her skillful storytelling.
Unsurprisingly, given that she has lived and worked in Pakistan, the US and the UK, much of the evening was spent discussing place and belonging. She talks about her 'categorisation': sometimes she is a 'British writer', sometimes a 'Pakistani writer', often at the moment a 'Muslim writer'. She told us about her sense of belonging to many places since childhood; she calls both Pakistan and the UK 'home', although she feels a fiercer demand for loyalty from Pakistan, and tells her fans at events there: "I'm still yours".
Possibly the most fun part of the conversation was the bit of sparring that occurred when Shamsie refused to answer a couple of Winterson's questions. When pressed to justify writing Aneeka as a 'honey trap' – a sexually ruthless woman who goes after the son of the British home secretary to try and save her brother – Shamsie wouldn't be goaded into telling us what to think. Winterson's point was fair, especially during a week when #MeToo was trending. When you put it baldly, it sounds like one of those false literature tropes, when "we all know that the truth is that it's men who use women sexually". While Shamsie insisted that the last thing a writer should do is pin down a reader's interpretation, she did point us to Aneeka's limited power, and the state that forces people to make these sorts of choices to protect those they love most. "What is morality in the face of love?" might be the question of the night, and of her novel.
It's always a pleasure to spend an evening in the company of two such adept writers and thinkers. This spring, Shamsie will join the University's Centre for New Writing as a senior lecturer. There is plenty of evidence that she will be a valuable asset to the department, and to the literature scene in Manchester more broadly. Whether or not she 'belongs' to us, I'm excited to see what she makes of it.
__
Abi Hynes is a drama, fiction and poetry writer. Her stories have been published by Litro, minor literature[s] and Fairlight Books, and her plays have been staged across the UK. She also runs cabaret collective First Draft. Follow her on Twitter @AbiFaro