MLF Chapter & Verse
The Manchester Literature Festival Blog
Review: Roddy Doyle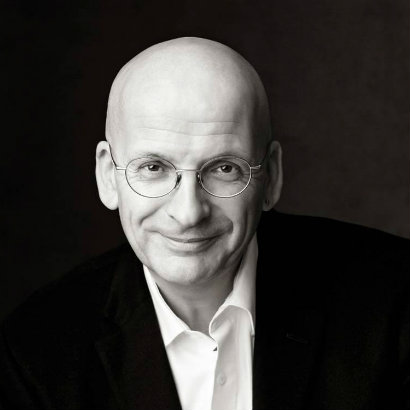 Young Digital Reporter Elizabeth Gibson reviews our event with Irish novelist Roddy Doyle
As I prepare to see Roddy Doyle at Manchester Literature Festival, I muse on the last time I encountered him: a couple of years ago, in an event based around his gentle, humorous Barrytown series. I am aware that tonight will probably be very different in tone, as the writer will be discussing his new novel Smile, which deals with some extremely dark subject matter.
I arrive at the Central Library, taking in a beautifully decked-out stage area and excited audience. Roddy and host Alex Clarke arrive to applause. Alex introduces Roddy and asks a few preliminary questions as an introduction to the novel; we learn it is inspired by a very sharp memory Doyle has retained from his childhood – of a French teacher telling him, "Roddy Doyle, I can never resist your smile". This led to torment from his classmates, who branded him a "queer".
Roddy stresses, however, that Smile is not a memoir; that only the "spark" comes from his own experience. The protagonist, Victor Forde, has many life experiences Doyle does not, and for me it is interesting to hear how one small seed of detail from reality can grow and branch off into different ideas, incorporating politics, history and fantasy to create a novel.
Doyle then reads aloud from the book, and I am pleased that his passage of choice correlates with the story he has just told, so we can see how he went about fictionalising it. The excerpt is also one that stresses the importance of family: Victor's relationship with his mother is vital to his day-to-day life and how he copes – for good and for bad – with the troubles he faces at school.
The final segment of the event consists of audience questions, and it is moving to see how several people who get the mic simply want the chance to thank Roddy for writing a book that tackles such a painful subject – child abuse in schools – with such sensitivity. There is also some conversation about his older books. He tells the story of how he was inspired to write The Woman Who Walked Into Doors, and comments on the challenge of taking on the voice of a ten-year-old in Paddy Clarke Ha Ha Ha.
A highlight for me is his reference to The Giggler Treatment, his classic children's book. Roddy remarks on the novel's legacy and how popular it has become considering he originally wrote it to entertain his own children. Like, I imagine, many millennials of Irish parentage, I grew up with multiple copies of The Giggler Treatment and its sequels, so hearing him speak about it is wonderful.
The evening comes to a close and Doyle signs copies of his books while the crowd buzzes happily. Considering the heavy themes in a number of his books, Roddy has succeeded in making the hour we spent with him an upbeat, hopeful one with plenty of comical moments. It was my first event of this year's Festival and made for a lovely start.
Elizabeth Gibson is a Young Digital Reporter at Manchester Literature Festival