MLF Chapter & Verse
The Manchester Literature Festival Blog
Review: Shami Chakrabarti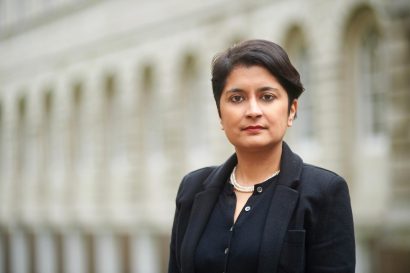 Aoife Inman, MLF Digital Reporter, enjoys an inspiring event with Shami Chakrabarti
The theatre is brimming. Such a packed venue is undoubtedly a product of recent events on the global political stage. The shock of the past year has engendered a surge in activism, especially amongst young people. Examining the audience, it is a bittersweet moment. What is most striking however is the overwhelming female presence. There are a few men, but here they are a minority. The strangeness of this scenario it is a testimony to the purpose of Chakrabarti's new book.
Of Women is a feminist polemic, a well-evidenced appeal for radical action. But like 'On Liberty', her debut publication, it is lightened by the personal; Chakrabarti's own stories and the testaments of others deepen the book's emotive capacity, allowing for moments of humour.
Of Women has come under fire within the tabloids, as a sweeping overview of global gender inequality. However it seems, as we listen to her speak, what else could it be? To deepen the analysis of every issue the book covers would be to produce a manuscript so dense it would be consigned to coffee tables and top shelves. Chakrabarti chooses to produce something digestible. It's clear that despite its title, this book and the feminism it bolsters is far greater than simply a discussion of "women's issues". This is a debate encompassing class, education, sexuality and gender identity. The book does well to touch on each issue.
Chakrabarti herself is reserved at first. Her approach to the interview questions is methodical if distanced, a far cry from the mood of the book. However as the conversation progresses, this changes. She relaxes into the room and its inhabitants, and the anger and passion that drives her writing is soon palpable.
She is a woman toughened to media scrutiny, in the past year especially. But this experience seems to have made her solidly self-assured. She's not afraid to reflect sharply on how the years since her last book have remolded old opinions. On her support on affirmative action, 'when I was younger I didn't want to be a token', 'now I realize these women can be beacons'.
Her words are radical, but they are designed to be. Gender inequality is, in her view 'an apartheid', 'and I do not use that word lightly' she adds, in afterthought. This is the real merit of her talk; it's unapologetic approach to feminism. In the era of Brexit, of Trump, of geopolitical crisis, she argues this progressive radicalism is needed to merit any positive change.
Although the interview is met with silence for the most part, there are moments of realization for the audience, audible gasps, and frustration vocalized in the rows behind me. I think all are struck by the passion and eloquence of her words, responsive to the issues she raises – university students whose heads shake at campus sexual assault statistics and parents who voice their solidarity over gendered clothes.
The talk winds to a close all too rapidly. We shuffle in our seats. In the city of the Pankhursts it seems fitting that we exit uncomfortable and angry, impassioned with the call for change.