MLF Chapter & Verse
The Manchester Literature Festival Blog
Review: Simon Schama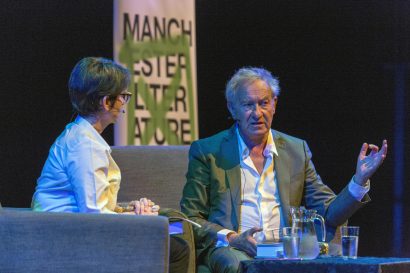 Young Digital Reporter Matthew Singleton reports on our event with Simon Schama
It was a packed and perhaps surprisingly loud auditorium prior to the talk, considering the focus of the on-stage conversation would be on an 800 page, 5-decade-spanning tome. But that is the appeal of Simon Schama, a man known for his engaging histories as well as his television appearances. Indeed once settled into their armchairs on stage, MLF Patron and critic Erica Wagner began the talk by listing Schama's comprehensive works and achievements. His most recent book, Belonging: The Story of the Jews 1492-1900, the focus of the night's discussion, has been shortlisted for the Baillie Gifford prize for non-fiction.
The two began at the start of this new volume in 1492, and immediately it became clear to everyone just how encyclopaedic Schama's knowledge actually is. He quickly delved into a monologue about the expulsion of Jews from Spain at that time.
That is not to say it was dull. Not at all. Schama showed a great exuberance when he talked and he always had a good joke up his sleeve. The discussion was also full of interesting anecdotes from Schama. He seemed to constantly have another ready on the tip of his tongue. He spoke of an underground railway set up in Portugal, which Jews, dressed in disguise, used to escape to the Ottoman Turkey. He delivered intriguing story after story from his memory, before delving into the book itself.
The work itself, the second volume in a planned trilogy, reads like a fiction novel. It is so descriptive and is written with great flair. This is not another dull history book filled with pages and pages of data, which is thankful considering its length and breadth. Schama talked about how this tiresome approach to historical writing is something he wishes to avoid at all costs.
He is much more interested, instead, in the people and their stories. He confessed he went searching for stories told by Jews others than Rabbis and the like. Instead he was "looking for Jews who were unapologetically Jewish." He aimed to understand and know the textures of their everyday lives. He described the book as "the story of all kinds of Jews", and said that the phrase itself perhaps could've been the book's title.
Even though the book only covers up to 1900, the big dark questions of the twentieth century still loom over the work, and Schama addressed them head on. He described the work as a "project of vitality not mortality" but also accepted that he has no intention to sugar coat and that it can get dark.
This brought the talk to the modern day, and Simon dedicated a large chunk of time towards the end of the discussion to the present situation. Volume one was released in 2013, in a time pre-Trump and Brexit. In many ways this new volume is being released in a very different world, and that is not lost on Schama. He spoke of how he sees parallels today with the events in his book. Not least an apprehension to the mixing of religions and cultures, and a general politics of estrangement.
The talk did not end on that somewhat unsettling note though, as a quick Q&A commenced. Once more Schama demonstrated his vast knowledge and his love of a good joke. The night as a whole was an enjoyable one with an interesting and entertaining discussion in front of an engaged audience.