MLF Chapter & Verse
The Manchester Literature Festival Blog
'She could have been Donald Trump's press officer.' A Celebration of Muriel Spark, with Jackie Kay and Alan Taylor Review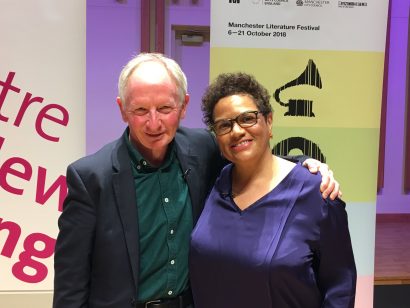 Centre for New Writing student Adam Wolstenholme reviews one of our Literary Reputations events.
The Scottish writer Jackie Kay is third modern Makar, the Scottish poet laureate, whose work is known for its humour and exuberance. Who better to celebrate that other grand dame of Scottish letters, Muriel Spark?
Kay was joined on stage at the Cosmo Rodewald campus venue on Tuesday by literary journalist and Spark biographer Alan Taylor.
The pair made engaging hosts, peppering their discussion and readings of Spark's work with memorable anecdotes.
Spark is most famous for her novel The Prime of Miss Jean Brodie, but also wrote 21 other novels as well as collections of poetry and a biography of Emily Bronte.
Taylor was a guest at Spark's home in Tuscany in her later years. From Taylor we learned that this famous chronicler of domestic life could scarcely boil an egg, wrote comically futile letters of protest to the tax man, and was the owner of fierce dogs and semi-feral cats.
Spark could be cutting, and once lamented the fact that it was Marie Stopes, rather than Stopes's mother, who had invented birth control. The acerbic wit that Spark deployed in her life will be familiar to readers of her fiction, in which characters' foibles are skewered with one-liners and shrewdly observed gestures. And she was celebrated for her mastery of the non sequitur.
Kay and Taylor demonstrated Spark's remarkable self-confidence. Taylor said: "As a schoolgirl she would take anthologies of romantic poetry home to improve them. I love the idea that she thought Daffodils needed a bit of work!"
Spark regarded herself primarily as a poet and said she found writing novels easy.
Kay said: "She had a poet's eye for detail. Her poetry was a training ground and a shop floor in which she developed her skills as a novelist. It says 'poet' on her gravestone."
"She had a lovely poetic cadence," agreed Taylor. "When she was writing she would drift off, as writers do. It was as if she was being dictated to. She hardly made any revisions."
Although she was most famous for her best-selling novel, The Prime of Miss Jean Brodie, Spark considered her best work the lesser-known The Driver's Seat. She had an ambivalent relationship with her best-known novel, enjoying the lucrative sales over decades while feeling it detracted from her other works.
But the character of Jean Brodie endures because her portrayal in the novel is so memorable. It was inspired in part by Spark's own school days. The 11-year-old budding writer was dubbed 'the school's poet and dreamer'. She was clearly influenced by one teacher in particular at St James Gillespie's School for Girls – the redoubtable Christina Kay, who became the model for Jean Brodie. Like Brodie, Kay would call her charges 'the crème de la crème' and declare herself to be in her 'prime'. She was also moved to tears (perhaps over a lover lost in the war) when the girls in her class would sing.
We learned that Spark wrote propaganda in the war, urging the German people to rise up against the Nazis. She spent hours listening to the testimonies of Holocaust survivors at the trial of Adolph Eichmann as material for a novel.
There was a sense that Spark was a deeply complex, often contradictory character. The novels are full of jokes, yet also deeply serious. Perhaps surprisingly for a writer so famous for her sharpness of wit, she believed in ghosts and angels. But then themes of spirituality and religion run throughout her novels, even if they are undercut by bitter ironies, as in The Girls of Slender Means, in which the most pious characters suffer grisly deaths.
Taylor also identified contradictions in her literary technique: "She's often goading the reader, reminding them she's writing a novel, yet at the same time making them forget that she's writing a novel. I can't think of a better person to write fake news than Muriel Spark. She could have been Donald Trump's press officer."
"What a horrible thought!" said Kay.
The event brought this contradictory figure vividly to life, suggesting that 100 years after her birth she remains as vital a literary presence as ever.