MLF Chapter & Verse
The Manchester Literature Festival Blog
Review: 24 Stories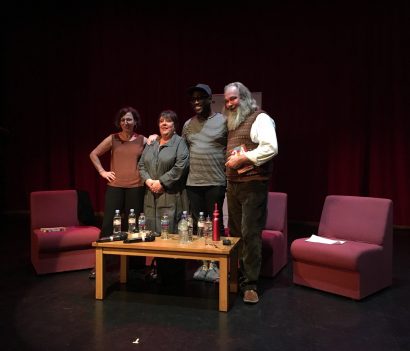 Our Young Digital Reporter, Siena Hallewell, learns how laughter and stories can bring hope and strength.
Walking in to 24 Stories, my eyes arrived not on the eager audience but the intimate arrangement of four burnt-orange armchairs settled around a cluttered coffee table. Armchairs that would, minutes later, seat Kathy Burke, Mike Gayle, John Mitchinson, Nina Stibbe and the promise of hearty, all the way from the stomach, laughter. 
The evening began with the reading of the author's own stories and two lesser known ones from the book: four stories ranging from funny in that poignant, satirical way I've never been able to master, to moving in that understated way that is so hard to capture. I frequently left my seat for the London settings of each story during the readings yet was always enticed back by the raucous laughter that followed anecdotes such as Kathy Burke's recollection of her younger years spent in a bookshop whose owners made her feel so welcome she would frequently fart – something she attributed to 'the smell of pages.' It was unexpected and almost alarming at first that I was laughing, that a book publicised as about the tragedy of Grenfell Tower could be so amusing; I soon learned, however, that it was the reinforced community and hope born from Grenfell that was the focus of the evening and 24 Stories. 
Even when faced with the acknowledgement after the readings of the horror that Grenfell was, I found it easy to accept again the whole-hearted invitation to feel warm and entertained under the soft light and Nina Stibbe's very relatable admittance that she originally became a writer after reading Catcher in the Rye and mistakenly thinking 'oh, I could do that.' 
It was this bridging, naturalistic conversation between the four people on stage, that somehow managed to address the audience at the same time as being directed to an individual specifically, that let me know the importance of 24 Stories. John Mitchinson said at the beginning, which really stuck with me, 'it's a fantastic thing that you can call for stories'. In the aftermath of tragedies, we need stories to get through them, to articulate what happens when the media and emergency services have disappeared, to aid the restoration of hope and strength amongst a group of people that now need each other even more. My realisation was then punctuated by Kathy Burke's Fitbit asking if she wanted to go for a walk – she absolutely did not want to go for a walk, to put it sparingly –  but the impact of the thought on me remained stead-fast. It is easier to walk in to be a part of an audience with the expectation of replicating the shock and despair you first felt when you heard about Grenfell. It is harder to catch yourself laughing, to marry the ideas of strengthened hope and community with one of England's deepest tragedies. I left feeling that 24 Stories does this so articulately and beautifully and has already funded therapists for survivors whose calls for stories have been met unflinchingly.