MLF Chapter & Verse
The Manchester Literature Festival Blog
Review: Beth Underdown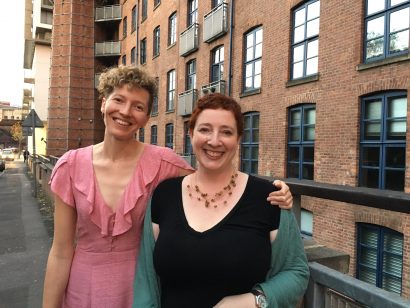 Centre for New Writing student Adam Wolstenholme enjoys Beth Underdown's Quarry Bank ghosts.
There were stories to chill the spine and warm the heart at an event to launch the new collection by local novelist Beth Underdown this week.
Beth read from Love makes as many at the Anthony Burgess Foundation on Tuesday. Her collection dramatises the women featured in the exhibition Lost Voices which ran at National Trust property, Quarry Bank Mill,  documenting the lives of mill workers who lived through the First World War and the fight for female suffrage.
The stories were commissioned by the National Trust in partnership with Manchester Literature Festival and inspired by Beth's research at Quarry Bank, where she was writer in residence last spring. They feature characters both real and fictional, all of them living and working around the mill during the October 1918, with some more modern snapshots of the site.
The stories are rich in sensual as well as technical details, adding a sense of verisimilitude and authenticity. They conjured a world where women lived in dread of hearing their men had been killed at the front, where cotton shortages could bring an eerie silence to the mill, and where it was unwise to speculate about the 'provenance of the mince' in one's cottage pie.
The stories set in 1918 are interspersed with those set in the present day. As Beth read to the full room, a projected image of Quarry Bank would fade into black-and-white for stories set a century ago, then back to colour for the modern-day pieces. This simple effect added to the spellbinding atmosphere as Beth's characters were brought vividly to life.
Between readings, Beth responded to questions from the audience and host Tania Hershman.
She explained how the project was different from her debut novel, The Witch Finder's Sister. The novel, which is featured in the Richard and Judy Book Club series, is based on the life of notorious 1640s witchfinder Matthew Hopkins. It is a sinister tale of a time when, for a woman, being different could mean death.
Love makes as many is of course another piece of historical fiction, but the new collection comprises ghost stories about love, and love stories about ghosts.
Beth, who lectures in Creative Writing at the University of Manchester, said: "There's a lot of death and sadness in The Witch Finder's Sister, but not very much about love. This time I wanted to write about love – and ghosts.
"For me, going around National Trust properties has always been about listening for ghosts. When you walk around these old buildings – especially if you're alone – there are some corners that just make you stop.
"At Quarry Mill, I'd talk to the staff. The mechanics would say, 'Oh, you're the writer, are you?' But I found that asking them about ghosts was a way to get them talking. It was overwhelming how many of them had a ghost story. But maybe that's the case with a lot of people who work in old buildings."
There are political elements to some of the stories, which mark the centenary of partial women's suffrage, in which only women over 30 who owned property were granted the vote. It is thought that the government was careful to limit the votes of those women most likely to have lost men in the war.
Beth said historical fiction was a way of addressing our 'common humanity'.
She said: "For me, writing about the past is a way of writing about the present, while pretending I'm not."
Such a lack of pretension is in a way typical of Beth's stories, in which spiritual themes are firmly grounded in down-to-earth detail.
Beth, who was born in Rochdale, has a life-long fascination with local history.
She added: "My childhood was punctuated by the chimneys coming down.
"And like my characters I do enjoy cottage pie – but I like to know the provenance of the mince."