MLF Chapter & Verse
The Manchester Literature Festival Blog
Review: Carol Ann Duffy, Suzanne Batty & Clare Shaw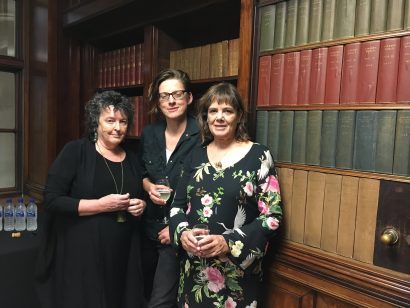 Our Young Digital Reporter Ben Haynes experiences a range of emotions at an evening of poetry.
Poetry has a reputation for being emotional, the Festival's co-director Cathy Bolton warned the audience beforehand. Clare Shaw, Royal Literary fellow and Northern Writers' Award recipient, did not disappoint.  Her opening poem, with a dedication to Dr Blasey Ford, 'I do not believe in silence' gripped the audience.  An Ikea's worth of pins might have dropped during the impassioned reading of her 'Flood' collection. The Boxing Day floods of her home town ran through poems of loss, scandal and recovery. This continued with Noah's wife 'when the floods recede they don't leave a world made shiny'.
Next up was Suzanne Batty, (lecturer at Sheffield Hallam University). 'States of Happiness' is dedicated to her twin Nicola, claimed by Friedreich's ataxia,a degenerative disease. Her poems were calm, dreamlike even. In one poem the twins were at a beach with their dad, the next Suzanne's head was hanging from her twin's wheelchair, and in another poem, the two were singing the fictitious football chant F***.
Then it was time for multi-award winning Dame Carol Ann Duffy, unveiling her final collection as Poet Laureate. 'Sincerity'. She began by staring out a 'Gorilla', who might be the US President after another day's evolution. Animal sincerity continued with the 'slow lines of sadness' from 'Elephant', and the 'Empty nest', for which Duffy researched such grief amongst birds. Sincerity certainly didn't seem a uniquely human quality by now.
More politics bled in from our 'Lucrative Democracy', with the evil twins of Brexit and Trump. In 'Ex-Ministers' people were led 'like lemmings over the white cliffs of Dover' while 'the constant dutiful Queen' observed Aberfan and Grenfell, in 'Britannia'. The six key words of the Sestina (Sharples) were also deeply charged about the last two political years.
Incidentally, the audience was laughing, as politics hardly stopped Duffy poking fun at her life and this only increased with a poem of her adolescence, 'speaking to foreigners in accents… building bonfires not permitted to light… trying out blindness'.
Duffy ended with another primate poem, specifically a monkey being applied to her in a Marrakech market. £500 later, said monkey had a bath, bit a toothbrush and ran up a curtain.  It was also a good finger painter and watched 'The Jungle Book' while Duffy was finishing 'The World's Woof' (Aesop's fables from the animals' point of view). After all, 'Once a mother, always a mother'. Duffy then passed on her 'best wishes to the new Laureate. The monkey is mine'.