MLF Chapter & Verse
The Manchester Literature Festival Blog
Review: A Celebration of Muriel Spark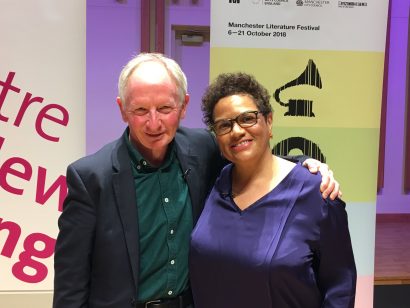 Young Digital Reporter Zarina Akhtar spends an evening celebrating the contradictions of Muriel Spark.
It is on an autumnal Tuesday evening that we find ourselves at the Martin Harris Centre seated for a discussion about Muriel Spark. The audience, holding well-read and loved copies of Spark's novels, including the The Prime of Jean Brodie, eagerly anticipates our speakers for the evening. When Scottish writers, Alan Taylor and Jackie Kay arrive on the stage they are met with enthusiastic clapping. Rightly so as this is truly a celebration of Muriel, as well as a remembrance and an outpouring of revelations, which, in turn, makes the evening personal, intimate and funny. Many of the revelations come from Alan, Muriel's friend. He first met Muriel in the Tuscan countryside in 1990 and penned Spark's memorial An Appointment in Arezzoin 2017. Furthermore, it seems appropriate that two acclaimed Scottish writers are leading this celebration of Muriel Spark, as she was fiercely proud of her Scottish heritage.
What unfolds is a consideration of Muriel's writing status within literature. Muriel is best known as a novelist and short-story writer and it is interesting to find out that she thought of herself as a poet first and foremost. She is remembered as such on her gravestone. Certainly, as Jackie and Alan both highlight, this can be seen in her novels through the syntax used and the rhythmic structure penned within her texts. What both speakers also highlight is Muriel's knack for merging reality and surrealism within her novels, thus, the symbiosis of the two is all the more interesting in today's modern era. How would her writing be received in this century?
Both Jackie and Alan reinforce Muriel's bold, fearless and colourful character through a series of funny and endearing anecdotes. Muriel started writing from an early age and was known as a 'dreamer' in school. Alan's revelation that in adulthood Muriel had a vociferous appetite and love of shopping – 'Muriel would have been a TK Maxx shopper' – had everyone in stitches. Once Muriel had finished with her clothes, she would give them to nuns, who would wear them underneath their habits. Muriel, it seems, was also a sophisticated evader of the taxman, protesting her innocence and bohemian status as a writer. Muriel was also involved in writing black propaganda against the Nazis and essentially creating fake news. Again, this period in her life highlights that symbiosis between reality and surrealism, not only in her writing but in her life too. All in all, this was a night that truly celebrated her life and her legacy which will forever live on.