MLF Chapter & Verse
The Manchester Literature Festival Blog
Review: Faber New Poets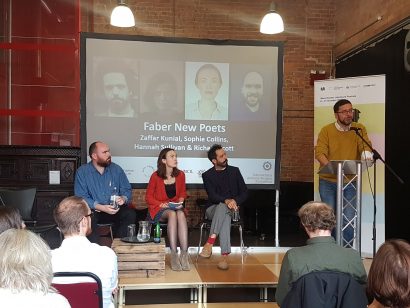 Centre for New Writing student Suzi Clark enjoys three poets rallying against the system.
The International Anthony Burgess foundation saw a great turn out for the Faber New Poets event: a stunning book launch for the work of new voices in poetry, celebrated as part of the Manchester Literature Festival. Unfortunately, only three of the poets were able to attend due to rail disruption. We heard from Richard Scott, Zaffar Kunial and Hannah Sullivan. Each poet in turn enthralled the room with readings from their debut collections.
Richard Scott introduced us to his poetry by speaking of his life-long habit of "mining classics looking for their violet hour". The phrase 'violet hour', of course, refers to T.S. Eliot's The Wasteland in which the colour violet, among many plausible interpretations, could be said to evoke a sense of the unknown, that is to say: otherness. And a pervading sense of otherness is an apt descriptor of queer life. However, Scott continues, "queerness always finds a way".
Throughout the poems Scott reads for us (Museum, Oh My Soho!, Crocodile and Cover Boys) the 'broken' aspects of having a marginalized and oppressed identity, combined with the views of queer people as 'broken', were juxtaposed and courageously called into question by the brash and unapologetically erotic imagery used. Scott's brazenly sexual language was something of a two-fingered salute to some of the 'I don't mind the gays, but not in my town!' attitudes that are still unfortunately present in some segments of society.
In Oh My Soho! Scott feels that he has "rainbow warriors to exhume": he is "to be homo-historian, […] to turn bio-grope to biography, foreskin to forbearer". This strange obituary of a poem reveals the extent of trans-historical queer oppression in a radically sexual language. Scott has succeeded in writing a poem which does not mourn the dead. Instead, Oh My Soho!, and the rest of the poems we heard from Scott, highlight the inevitability and indomitability of the queer presence in society and in doing so destabilize and threaten the sensibilities of a heteronormative world.
The title poem of Zaffar Kunial's debut collection, Us, perfectly encapsulates a complex sense of belonging and otherness, of the confusion surrounding an identity both British (through his mother and his birth place) and Pakistani (through his father). This theme is also explored in The Word, in which Kunial's father advises him to "enjoy the life", a phrase whose uncomfortable 'the' is indicative of a life between identities. And yet, the identity conundrum is far more complex than the implicit 'them' and 'us' idea: an idea which Kunial's work wisely never touches on. Instead he focuses on the unfixed nature of national identity, comparing it to the undulating sea in Us and elsewhere, in Sparkhill, a more tenuous link can be found between the "liquidity" of the sky and sea blurring together as he rolls down a hill and the way that national identities blur and merge, never having been, and never becoming, completely distinct.
Later, Kunial reads Poppy for us, a breathtakingly powerful poem concentrating on the futility and inevitability of ongoing conflict worldwide. The refrain "No, this is not enough" interspersed between imagery of death through conflict seeming to speak for humanity's vast and impetuous ability to constantly fight one another. Kunial finished his final poem, Prayer, (a poem about his mother's death) by thanking her gratefully, then recounting that on her death bed she "stared on ahead / I won't know if she heard": an arresting and impactful end to his performance.
Hannah Sullivan took to the stage last, and she brought us with her on an odyssey across modern-day New York, replete with imagery and scenes of disconnection and loneliness. She read one extended poem for us: You, Very Young In New York. With lines such as: "The lights going off one by one / like a diminished Mondrian", it's hard not to fall in love with this poem, which, Sullivan admits, "took inspiration from The Wasteland". Eliot is not there, though, to provide a sense of history, but as an example of work which is rooted in modernity. What she takes from Eliot in particular, but also from other English-Language poets of the past (of whom she is well informed due to her other job as an English Literature academic), is a flair for bending seemingly un-emotive imagery into a whole which effects a desired, often desolating mood.
Sullivan evokes an absurdly pointless world which feels somewhat Beckettian, an author who is incidentally name dropped in You, Very Young In New York. And yet, the poem ends on the line "and through tears you're laughing", perhaps a comment on finding the hope embodied by authenticity in the strangest of places? Or a response to the age-old phrase 'you laugh or you cry' – 'in response to this society?! I do both!' Sullivan seems to say.
What seems to me to link these poets, beyond their evident skill, is their sometimes rallying cry, sometimes hopeful murmur, against a system that seeks to make divisions between people and communities.