MLF Chapter & Verse
The Manchester Literature Festival Blog
Review: Michael Morpurgo: Castlefield Manchester Sermon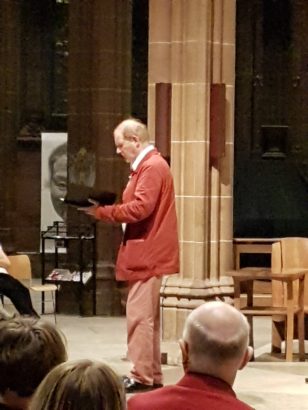 Our Young Digital Reporter Elizabeth Gibson spends a remarkable and enchanting evening in the company of Michael Morpurgo.
I am sure that I am far from the only young adult today whose early reading life was shaped by Michael Morpurgo. His books took me all over the world, and through time, to meet lions and whales and be swept away on adventures. So, it is with great excitement that I arrive in the vast and atmospheric space of Manchester Cathedral to hear Morpurgo deliver his thoughts on nature, its role in our lives, and our duty to protect it.
The author speaks with passion: his strong voice commands attention and respect. He tells of how the countryside and wildlife dominated his own childhood, and speaks of his wife Clare's work to enable city children to spend time on farms and encounter nature. Michael also discusses the work of other writers with regard to our environment, such as Seán Rafferty's poetry, and The Little Princeby Antoine de Saint-Exupéry. On the latter, Morpurgo highlights how the love that the Prince feels for his Rose grows from his tending and caring for her and suggests that similarly, through caring for our environment, we get more out of it: it is a relationship that works both ways.
Another theme that emerges is the importance of inspiring future generations. Morpurgo describes how proud he is to have been a teacher, and how it can be sad that pupils leave and you may never know what they will go on to achieve. This leads to a wonderful moment when a gentleman in the audience stands and takes the opportunity to thank Michael for being his teacher fifty years ago. This man went on to become a teacher himself, and retired as a headmaster.
Interviewer Rachel Cooke opens questions up to the audience, and Morpurgo is asked why he chose to tell War Horsefrom an animal's perspective. He responds that he wanted to portray the horrors of WWI as seen by a neutral party: Joey, the horse, belongs to both the Allied and German forces at various points in the novel. Michael goes on to share the story behind the portrait of Joey that hangs in Iddesleigh Town Hall, which was first mentioned in the book and eventually became a reality, as tourists had been wondering where it was. The simple anecdote, in Morpurgo's telling, becomes magical. Another tale comes alive when a young audience member asks about the book Alone on a Wide, Wide Sea. Morpurgo recounts a story of sailors and astronauts that feels fantastical, and yet is wonderfully true.
The evening ends in a remarkable way, one that Morpurgo planned and leads: he sings the song "Only Remembered", used in the film adaptation of War Horse. Gradually the audience picks up the chorus and joins in. Hearing this in a cathedral is quite enchanting – it is like a hymn, but the sentiment is less of religion and more of simple togetherness. It is the perfect ending to a remarkable night.
http://elizabethgibsonwriter.blogspot.com