MLF Chapter & Verse
The Manchester Literature Festival Blog
Review: Rommi Smith & Dave Evans: Bodies of Colour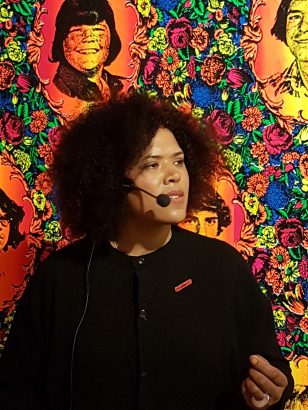 Our Young Digital Reporter Elizabeth Gibson finds Rommi Smith & Dave Evans' response to the Bodies of Colour exhibition at The Whitworth unsettling and thought-provoking.
A year ago, I took part in a performance workshop with Rommi Smith and, looking back, it was a defining moment for me as a spoken-word artist. She taught me so much, and gave me confidence. As a result, I am very happy to be assigned to review Rommi and Dave Evans' commission at Manchester Literature Festival. The event is a response to the exhibition "Bodies of Colour" at Whitworth Art Gallery; Rommi presents a spoken word performance inspired by the work, and Dave accompanies her on piano.
"Bodies of Colour" highlights wallpaper designs, some of which were or are available commercially, and some of which were created by artists in response to issues such as racism and homophobia. There is also a long table which serves as both an artwork and a place to sit, and which incorporates snippets from Rommi's writing and Dave's music. The audience settles around the table, but as the evening goes on, Rommi encourages us to follow her around the gallery space, as she engages with the different works.
I already knew Rommi was a confident performer, and extremely charismatic. Tonight, however, she lifts it to a new level, interpreting dark and difficult themes with sincerity and respect. The style of her spoken word piece varies: the segment "After Farrow & Ball", for example, is simply a list of wallpaper patterns – Paisley, Feather Grass, Bumble Bee – but her tone and delivery are quietly powerful, and make the listener think about where these names came from and what they might evoke. Later, in discussion, she mentions that Farrow & Ball have a design named "Hegemone", and that in her view the similarity to the word "Hegemony" is worrying.
Other sections are presented more as narratives, such as one inspired by the table and by Charlotte Perkins Gilman's 1892 short story The Yellow Wallpaper. Rommi tells of an unhappy relationship, and scrawls words in coloured crayon onto a roll of paper spread across the table – words like "love" and "change". The audience is then encouraged to add our own words, which is a nice way of interacting with both the spoken word piece and the exhibition.
Dave's piano accompaniment is effortless and smooth, creating a real ambience in the gallery. It is as if it fills up the spaces between Rommi's words, meaning that from the beginning to the end of the event, we are in a particular zone, with the piano as a constant. It is almost like the sound of the sea in the background, with the words like lights, picking out certain points.
Afterwards I have a final look over the artwork before leaving, seeing much of it in new ways. Overall, the event has been an unusual, unsettling – in a necessary way – and thought-provoking experience.