MLF Chapter & Verse
The Manchester Literature Festival Blog
Review: Sasha Dugdale & Nick Laird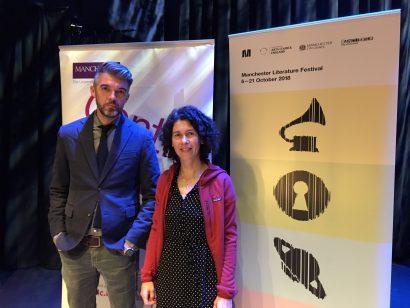 Young Digital Reporter Urussa Malik enjoys a quietly powerful poetry event.
Co-director of the Centre for New Writing, John McAuliffe introduced two writers working closely with the idea of memory and history. Nick Laird has recently published a new collection of poetry, Feel Free, where the idea of being free and not free flew across his poetry. Sasha Dugdale's newest collection Joy speaks as Catherine Blake, the wife of William Blake, as well as voices of Ukrainian women. The event was quietly hypnotic, both poets quietly reciting powerful images.
Nick Laird began with an exploration of watermelon seeds, flesh and all – next, jumping to a poem about his mother's death. A sombre tone which was lightened by Laird's own quip of 'I have a had a hard year, if you hadn't realised'. These un-cheery poems come as no surprise to the audience. The poetry becomes a sort of haven – where tensions pent are released and, by nature of the reading, consumed so readily by the audience that they are simultaneous personal and impersonal aspects of Laird to which we are now privy.
Sasha Dugdale's poetry, by assuming a voice, is more emotionally aloof – despite the context of romanticisms pervading her poetry. She undertakes poetry written from the perspective of women,  including the Whitbread winner for best single poem, the title poem 'Joy', which is chronologically structured between numbers, of which she reads parts. Lines such as 'I have the shadows of memories' 'war is liquid thought fire, it burns the mind' 'I have no right to grieve I am whole' – poetry here becomes a form of memory and history, an archiving and preservation of data.
Both welcomed questions from the audience. A particular one that stuck in my mind was a question around poetry readings and their transient, lucid nature. Both poets lamented that unless the audience was already familiar with the poetry, it is actually quite difficult to leave a literature event with some sort of substantial feeling – simply, it feels more consumable and performance than the act of close-reading poetry invites us to do.
I spoke with Sasha Dugdale at length about this point after the event, where both writers signed and spoke with us. She gave useful advice for aspiring writers too – attend as many workshops as well as carrying a little book to write down any phrases or moments that particularly strike you as you go about life.  It was a lovely event of shared emotions and of shared realities.
Urussa Malik is a second-year undergraduate, studying English Literature at the University of Manchester. Currently writing poetry and reading prose.