MLF Chapter & Verse
The Manchester Literature Festival Blog
Review: In Search of Mary Shelley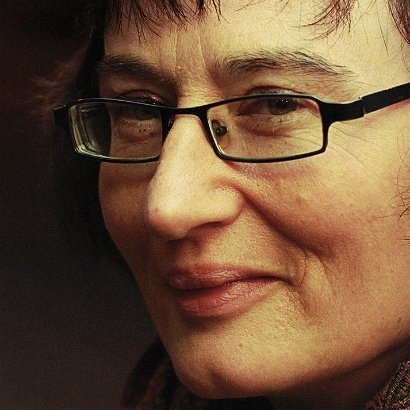 Ben Haynes spends a fascinating evening listening to Fiona Sampson talk about Mary Shelley.
Fiona Sampson is perhaps the person most qualified to talk about the mother of Gothic Horror and Science Fiction, Mary Shelley. Both share quite the talent with writing, with Fiona having written biographies which have been translated into 30 different languages. Fiona starts off the event by mentioning that like Marianne More, 'I too dislike it'. While Shelley defined biography as 'To collect the peculiar character of the man'.
Mary Shelley's life was at first expanded on in the usual biographical detail. Her mother and father, Mary Woolstencraft and William Godwin, a radical feminist and radical anarchist respectively, had their second daughter in the countryside north of London.Woolstencraft promptly died of Septicaemia and clinical arrogance. It would be another 30 years before Ignas Semmelweiss suggested germs existed.
And this, it transpired, was the main reason Mary was so concerned with death. How it must feel to see your mother's deathbed every day, is perhaps the main reason why she started writing about a mad scientist who could raise the dead. Mary didn't stop there: her first letters were traced on her mother's tombstone and she declared her love to her eventual husband Percy on it.
Godwin's marriage to Mary-Jane Claremont, who won him by loudly yelling 'I adore you' from her neighbouring garden, ended up with Mary being sent away to Dundee, mostly to do with a suspected skin disease. This only made her more rebellious, even in a household with such rebellious visitors as future Romantic poet Samuel Taylor Coleridge and other members of the humanitarian Quakers. She was even wearing Tartan 30 years before the Scots could wear it.
So it was no real surprise when Fiona described Mary, her step sister Claire and Percy Shelley literally running off to Switzerland. The fact that all her childhood memorabilia got lost in Paris and the fact they ran out of money before they could found their ideal society was more surprising. Percy Shelley's invitation for his wife Harriet to come was… well, I still don't know what to think about that. And all this was during the Napoleonic wars.
However, the part of her life that was perhaps the most important to all those who study Gothic and Sci-fi was where those moments really started to play a part in her life. Returning from the above escapade by riverboat, the group encountered three German medical students in the Audevard hills, who gave her a distinct impression of Frankenstein. This combined with his castle, which came from a legend of an Alchemist who had discovered the Elixir of life.
This inspiration was only really set down in the year without a summer: 1816. A certain volcano in Indonesia had caused a volcanic winter and she was spending it with Lord Byron and his companion John William Polidori. After reading an extract in which Mary witnessed a spectacular bolt of lightning, the house set to writing up horror stories. Byron finished with an oriental murder mystery while Polidori played a large part in inventing Vampires. Mary, however, burrowed into the fundamental aspect of life the Romantics were becoming obsessed with and produced a Broken Spectre, a creature very much like 'The wretch who [Frankenstein] had created'.
After that dissection of what had made this founder of much of a world without a God, Fiona answered some questions.
Did Fiona have a favourite style of writing? At this, she confessed that the biography was a commission and one she had always aimed to be for the well-read poetry reader. Richard Holmes had always had a good idea of what a good biography should be. She pieced together Shelley's fascination with death, the starvation afoot and her half-sister's intricate preparations to be identified in the anonymous suicide sections of Victorian media.
Was there a reason why Percy and Mary Shelley made a detour to Bath to visit Mary's half-sister? It was not her place as a biographer to say.
Was her work an original? Not really, a 2D radar screen couldn't record a 3D life like Shelley's, it was just the literary outlook on it.
Did Shelley introduce the Gothic genre to Britain? No, she just helped bring it to the UK, Novels were only really fascinating to Shelley from about 13. As such, Frankenstein was just a word of mouth success, with reviewers split between it being fresh or Godwinian. Frankenstein the Scientist was taken up far quicker than the Monster, another parallel which Shelley so liked to highlight the differences in a book without God, where the innocent Monster was 'Made…and exiled fallable", as with Satan in Paradise lost.
Would Sampson say Shape of Water was the nearest to a modern Synthesis like Frankenstein was? Daedalus's myth was certainly close with his constant inventions and his being exiled for them.
In the end, rather unlike her book, Shelley's life would be better, worse then even worse. But we are all the better for it.