MLF Chapter & Verse
The Manchester Literature Festival Blog
Review: Take 2: Filigree, Contemporary Black British Poetry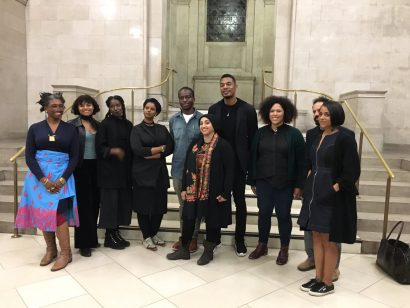 Centre for New Writing student David Adamson finds the future of British poetry bright.
Tonight, in the surgically bright Performance Space of Manchester's Central Library, three young poets talked about darkness. This wasn't, however, the usual darkness that audiences of poetry nights are accustomed to. Instead, Momtaza Mehri, Victoria Adukwei Bulley and Rachel Long explored, through their various poems, what it is to be of colour in Britain today.
Introduced by poet Dorothea Smartt in relation to Filigree, the third anthology of the Contemporary Black British Poetry series, each illuminated the topic with their own style and kept the audience rapt even while the bars orbiting the library filled with early evening festivity.
First to be introduced was Momtaza Mehri, Young People's Poet Laureate and co-winner of the International African Poetry Prize. She established her MO swiftly, stating "I write a lot about place" and talking about the oft-forgotten result of seeking asylum; a nihilistic sense of humour. This was in clear view throughout as a pointed wit pervaded her poems. Her first poem, Coincidence by any other name is a flight number, wriggled with superb similes and a sense of the bathos that often accompanies seeking asylum; leaving chaos to then arrive in Finland.
Her second, Repeat after We, written about seven years prior and included in the anthology, had a sternness and clarity that makes you wonder what she'll be capable of in another seven years ("looking above is the same in all accents"). Her third, Disrupture, is about the search through the rubble of 911 that unearthed boxes containing the bones of enslaved people ("property above property"). Her stated preference for the term 'enslaved people' rather than 'slaves' gave a good guide to the modern lexicon, which I guess is at the crux of tonight's three readings; that before any great change is enacted, there has to be a change in how race and colour are spoken about.
Next to take the stage was Victoria Adukwei Bulley. Her poem, Girls in Arpeggio, hit a wonderful peak in the final stave, Realpolitik: "these girls…decided to call themselves 'beautiful', not 'chocolate' or 'caramel', not 'coconut' or 'tan'…not 'Hovis best of both'…not 'video girl' or 'side-chick'." Systemically scything through these unhelpful adjectives, what remained at the poem's close was a sense of simple calm ("it was a violent act / but after it they slept better"). Her next, Ode, written in Brazil and in dedication to mosquitoes, sparkled with wordplay and wit, "O genome stealer… O organic alarm…O midnight kiss…O leg-slapper". Bulley's soft delivery lent these lines a playful tone and proved popular with the chuckling audience. Her last poem, the sonnet What was I but factory?, was influenced by a stint at the V&A and her (amazement) at the number of items with a questionable ownership, some being simply loot from the slave trade. "O my unconsented beloveds, my stillborn dawns" she read, and the pernicious roots of slavery in our modern world seemed clearer in the mind.
Last to read was Rachel Long, poet and leader of 'Octavia', a poetry collective for women of colour based at the South Bank Centre. Her first poem, Open, was a thrifty sucker-punch in three lines and gave a good inclination to the perspective and gnomic wit that would follow. Her second, Hotel Art, had a clout of a different sort, the line "You say, 'I don't think I'll identify with a brown son'" making plain the irrationality in some approaches to race, and the vivid psychodrama being described was gripping. There was a hypnotic quality to Long's poems and performance, peaking with 8, using a cleansing psalm is its epigraph and kaleidoscopic refrain. Long, as with both Adukwei Bulley and Mehri, seemed more fully formed than their various Young titles suggest, and will prove to be hugely exciting poets in the very near future.