MLF Chapter & Verse
The Manchester Literature Festival Blog
Review: Take 2: Terrance Hayes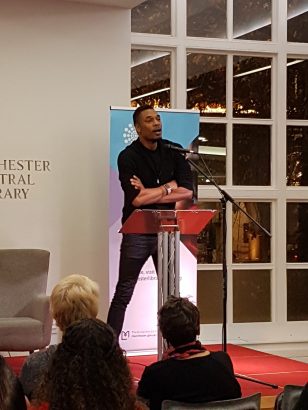 Centre for New Writing student David Adamson finds Terrance Hayes' event important and timely.
"something happened / In Chicago & Cleveland & Baltimore & happens / Almost everywhere in this country every day"
-Probably twilight makes blackness dangerous
A few years ago the intended subject of these lines would perhaps have been slightly oblique, but today the reference to police brutality and the killing of black teenagers by police officers is clear as day. A reading of poems like these would have perhaps in the past needed prefacing with some primer in the reality of living as a black person in America. Now there seems to be no such need, instead the background influence to many of these poems is the subject of news stories very, very often. It is with this required knowledge that the audience sat patiently for the start of tonight's event, hosted by recent winner of the Dylan Thomas Prize, Kayo Chingonyi; Terrance Hayes, winner of the National Book Award and that rare thing, a poet of charisma and insight into a tumultuous time.
Hayes was at pains to use his introduction to uphold Wanda Coleman, a figure of huge influence and to whom the collection is dedicated. That collection, American Sonnets for My Past and Future Assassin, is in homage to Coleman's own American Sonnets. He gives the audience a brief introduction into her life, personality and their friendship, before reciting American Sonnet no.95 by memory. Spoken by Hayes, her hawkish observations and bloody-minded tone emerge as a clear standard by which he grew his technique. Hayes then declared the order of business; he would read the fourteen poems, all with the same title, that comprise the first section of his collection, he and Chingonyi would then discuss his work and finally he would answer some questions from the audience.
Hayes' sense of humour was immediately apparent as he read #1, "my hunch is that Sylvia Plath was not / Especially fun company", and #2 showed his subtly light touch with wordplay and idiom, "I was raised / By a beautiful man. I loved his grasp of time. / My mother shaped my grasp of space." As he hit a rhythm, briefly pausing before starting each poem, the 70-fold title, American Sonnet for my Past and Future Assassin, became a hypnotic refrain. The ingenuity of giving all 70 poems the same title is, I think, that it unleashes the words in the poem from any tonal preconception, and it worked to wonderful effect tonight. The stream of consciousness that the reading became was no doubt the best way to experience the poems, a heap of broken images giving some insight into the social psyche of America, "Once-overs, half-studies, misreads & night / Mares looped the news".
Alongside police brutality, the other presence in these poems becomes quickly clear. The "pumpkin pompadour" to whom Hayes says "I know your shade / the colour of a suckerpunch" needs little introduction, and Hayes was plain in his introduction about the unfortunate influence of Donald Trump on this collection. Even in his anger, "it's not enough to want you destroyed", Hayes refuses to be binary about the President, his deep sense of humanity glinting as he says "You don't seem too haunted / but you haunted", showing once again his much-needed perspective on a figure that inspires such blind rage.
Throughout his questions from both Chingonyi and the audience, three pivotal mantras seem to emerge in his practice; discipline, fluidity and humour. Nowhere is this more clear than in his example of "the policeman's foot on your neck and you ask 'where d'ya get those shoes from?'"
This response proved something that had already been established by his reading: that there was a feeling of having seen an important poet at an important time in history.