MLF Chapter & Verse
The Manchester Literature Festival Blog
Review: Xi Chuan & Jennifer Lee Tsai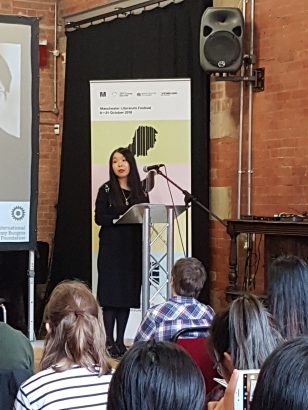 Centre for New Writing student Katherine Bosworth enjoys two contrasting Chinese voices.
The International Anthony Burgess Foundation on Cambridge Street is small, yet has an undeniable element of grandeur. The walls showcase exposed brickwork, and there is a large metal pipe above, giving the space an industrial feel. The event taking place here is Chinese Voices, my first poetry event of the Manchester Literature Festival. As I take my seat, fleeting wafts of coffee pass me.
Centre for New Writing professor John McAuliffe introduces the two poets set to perform, Jennifer Lee Tsai and Xi Chuan. John explains that there has been a "resurgence of interest in this field", citing among others the work of Sarah Howe, a Chinese-British poet who is a judge for the 2018 Griffin Poetry Prize.
Jennifer Lee Tsai is the first poet to read. She is a graduate of the MA Creative Writing course at the University of Manchester's Centre for New Writing. Introducing her, John recites a line from her poem New Territories, which encapsulates the themes of her work; "I'm no different for once. The anonymity subdues me." Jennifer's poetry deals with the relationship between the UK and China, and the differences between the two cultures. Her work was published last year in an anthology titled Ten: Poets of the New Generation, which features a diverse range of poets from The Complete Works mentoring scheme.
Jennifer's first poem is Mersey River, which is based on Liverpool. Jennifer proudly announces that this city has the oldest Chinese community in Europe, and goes on to mention the "geography of otherness" in her work. She appears to grasp her heritage with high spirits as she peruses her navigation of Chinese Britain. Jennifer then reads poems including Swallows, New Territories, Park Gate, and On Bridge Road.
John then introduces Xi Chuan, whose poetry book Notes on the Mosquito was published in 2012. John surmises that Xi Chuan's poems have a "brilliant clarity" and "develop terrific momentum and power." Xi Chuan is also noted as a translator of the works of other poets, including Gary Snyder.
As he started to read, I couldn't help but notice the stark difference between these two poets. Whereas Lee Tsai's work is focussed on culture and abstract concepts, Chuan's often details life's little ironies, with a swinging quality to the rhythm. Unlike Jennifer Lee Tsai, Xi Chuan reads some of his poems in Chinese, much to the amusement of the audience, which is partly made up of Chinese students.
Xi Chuan first reads My Grandmother, which he informs the audience is not about his own grandmother. The poem is instead a comic take on how he sees all of the grandmothers in Beijing as his own.
Other poems he reads include I Buried My Tail, in which he speaks of mistakes, explaining, "If I repeat them, it's to show my cunning." This elicits a light laughter from the audience. He reads one line in Chinese, followed by the corresponding English.
He also reads Customary Imagination, Trying to Talk About Flying Without Using Clichés, and Travels in Xi Chuan Province. This latter poem, he clarifies, is about a town in north west China. In his sweetness, he explains he has not named the town to ensure that he does not "annoy" anyone.
The last line of the poem is "the next generation on the street can never get enough." From this line, I sense his frustration with a fast-paced and overactive city, a remark that could ironically be easily applied to our Manchester. He then reads the same poem in the native language, and chuckles from Chinese faces fill the room.
Xi Chuan bows repeatedly upon leaving the stage. The event leaves the impression that art's strength is in its ability to cross cultures and languages seamlessly.