MLF Chapter & Verse
The Manchester Literature Festival Blog
Review: Dave Haslam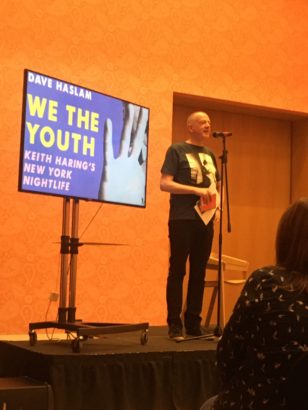 Our Young Digital Reporter Camila Florencia Rusailh enjoys a celebration of Keith Haring's life and work.
Late 2018 saw Keith Haring's resurgence in public attention following the UK's first major Haring exhibition announced by Tate Liverpool. This year, Dave Haslam's fully-booked event at the Whitworth Art Gallery combined a talk on his recent book, We the Youth: Keith Haring's New York Night Life, interspersed with musical extracts and a Q&A with local artist, writer and curator Greg Thorpe. 
In Dave's opening talk, he covered Haring's formative experiences with dance, music and the emerging underground venues in New York that provided him with the space to evolve as an artist. Dave moved between a talk about his writing process, reading us extracts, and blasting the songs that soundtracked Haring's life to bring a taste of NYC's Club 57 and Paradise Garage to the Whitworth. Dave stressed how music was not a background soundtrack for Haring, but directly influenced what he aspired to be and create. This intertwining of art and activism is one which Dave's book is key to bring to the surface as "activism and hedonism have always been entwined", notably with Haring's fundraisers for charities at the venues he would frequent.
Dave shared a thought he had in the book's writing stages where he realised the similarities between Manchester's LGBTQ community's nightlife throughout the '70s up until the '90s to the New York scene Haring was part of. It was incredible to visualise a world where two connected yet totally separate movements shared the same post-industrial landscapes of derelict buildings in their cities and championed the same struggles for equal rights and AIDS awareness. It was nice to see that an element of Haring's life had truly resonated with Dave's experiences amongst Manchester's nightlife and created a collective remembrance of an era.
During both Dave's talk and the Q&A with Greg, there seemed to be an intent to remember the world of 1978 as more than the past, but living memories that continue to resonate with us today. An extract from the book was read aloud from when Dave interviewed Samantha McEwan (a student alongside Haring at the School of Visual Arts and his housemate between 1980-82) on NYC's nightlife and Haring. His Q&A with Greg touched upon how he felt it was important to not recycle information people already knew, but actively seek anecdotes from those who knew him to remember him authentically.
Towards the end of the Q&A, the earlier upbeat atmosphere of funk beats pulsating through the Whitworth was erased by Greg turning to the subject of the AIDS crisis that was central to the nightlife community's experience at the time. As they discussed Haring's own early death at 31, after being diagnosed as HIV positive, Dave stressed to the audience how Haring was passionate to not stop working despite facing the limited time he had left. Dave brought the 1989 Chicago Mural that Haring painted with local children to our attention, explaining how in the months prior to his death he continued to engage with the community and create work that the manifesto he wrote as a student at art school would nod to: "art is for everybody". By ending the night with a celebration for an artist who fulfilled their own pledge and is still loved and celebrated globally, Dave and Greg injected the cold Wednesday evening in Manchester with some much-needed warmth, joy, music and sentiment.
About the writer: Camila Florencia Rusailh is currently a freelance marketing and publicity assistant working towards completing a BA in English Literature with Drama alongside writing for The Mancunion.