MLF Chapter & Verse
The Manchester Literature Festival Blog
Review: Booker Prize Shortlist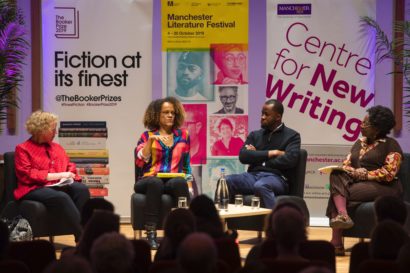 Georgia Way, student at the Centre for New Writing, discovers the suffering of the novelist at our Booker Prize Shortlist event.
An evening with three of the Booker Prize nominees – Bernardine Evaristo (Girl, Woman, Other), Lucy Ellmann (Ducks, Newburyport) and Chigozie Obioma (An Orchestra of Minorities) – asked the audience of the Manchester Literature Festival to question our conception of what a novel might be, introducing us to forms and voices which refused to be confined. The novelists' conversation with Ellah Wakatama Allfrey guided us through the challenges and experiments of their three shortlisted works.
Allfrey opens the conversation with the observation that the works share a reimagining of the novel. Bernadine Evaristo describes the purposeful crafting, in Girl, Woman, Other, in a form that appears visually closer to poetry than to a novel, using very few full stops and integrating pauses into the prose through the "patterning" of text on the page. She has used this "free-flowing experience" of prose – which she has dubbed "fusion-fiction" – to create a novel which gives equal weight to her twelve protagonists, allowing their lives to fuse together. This form is integral to the reader's understanding of her characters – all black, British and female or non-binary – by creating a "kaleidoscope" which depicts how the characters see themselves and each other.
Evaristo describes the access to her characters' psychology this grants as "the riches of being a fiction writer", with which Lucy Ellman concurs: "I don't know why people bother with non-fiction." Ellman's novel, Ducks, Newburyport, creates a free flow of the thought of a single character through one single sentence, spread over almost a thousand pages. Allfrey asks how she knew this would work; Ellman replies, "I didn't." She says that she wanted to portray the "million things going on at once" in a human brain, which "we don't usually confront… in a novel". As she continued to add more to the whirring brain of her protagonist, I was very surprised how long [the novel] got."
Meanwhile Chigozie Obioma rejects the term "novel" for his own work, An Orchestra of Minorities, which he describes as "extremely African". "A novel is a very Western concept," he argues, and the arc of a story, moving a character through conflict to resolution, does not fit with an African world view in which "agency is really mucky". For instance, he says – half joking, half serious – that his mother might argue he was destined to be at this event "from the inception of time."
The voice of Obioma's work is unique, taking the perspective of the protagonist's chi, or guardian spirit, which has been reincarnated over many centuries and flits between the protagonist's present, and an outlook borne of several hundred years of history. Obioma describes how he found that bending and breaking this perspective – slipping, for instance, between first and second person – allowed him to "probe what I call the metaphysics of being" and question why a life takes the route that it does.
Creating a breadth of perspectives on black, British womanhood was crucial to Evaristo's desire for her readership to understand "who some of us might be" in today's society. She speaks strongly about the "miniscule, often invisible" representation of this group in literature, and applauds the publishing industry for its work to improve this, acknowledged in both storytelling and access to publication. "People haven't even really been curious about who we are," she says, hoping her book will help to address that. "This is the book I've been waiting thirty years to write."
Similarly, at least part of the animus behind Ducks, Newburyport was, Ellman says, that "what women think is important; it doesn't get noticed enough. I wanted to give weight to that." However, we do not have unlimited access: "There's no prison, but [the protagonist] is a little repressed: there are places she doesn't want to go." Sex, she says is one; grief too, Allfrey asks? "Sometimes she indulges it, other times she veers away. Sometimes she is totally disgusted with everyone, as one is."
Allfrey says that the creation of these forms and voices to suit the story convey to her "the suffering of the novelist." The winner of the 2019 Booker Prize will be announced on 14thOctober 2019. Regardless of winners and losers, readers of these three novels are unlikely to feel that the writers' suffering was in vain.