MLF Chapter & Verse
The Manchester Literature Festival Blog
Review: Caroline Criado Perez: Invisible Women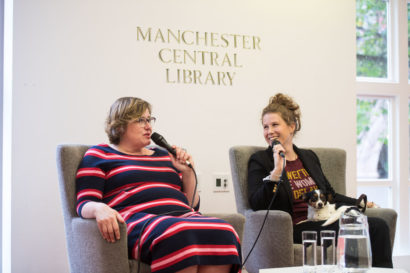 Our Young Digital Reporter Camila Florencia Rusailh finds food for thought at Caroline Criado Perez: Invisible Women.
Caroline Criado Perez rounded off Manchester Literature Festival's opening weekend at the Central Library talking to Alex Clark about her latest book, Invisible Women, which exposes "data bias in a world designed for men". Criado Perez took her seat with her dog, Poppy, who faithfully sat on her lap throughout whilst Criado Perez balanced a glass of red wine in her hand, giggling as she told the audience she "look[ed] bad" in comparison to her beverage-free interviewer. She could hardly be blamed for enjoying her Sunday before engaging in a complicated debate on the elusive evidence of gender bias that underpins our society.
Clark's first line of questions to Criado Perez concerned the aftermath of Invisible Women and how it impacts the way she views the world today. Criado Perez listed topical news reports across 2019 that demonstrated how actions taken to counteract the male-default world we live in are still a work in progress. She referred to a news report earlier this year when NASA failed to account for varying body sizes and shapes for their all-female spacewalk which subsequently had to be cancelled due to due to lack of spacesuits in the right size. This debacle was followed by her disgruntlement towards the lack of provision of women's public toilets that leads to queuing which she features in Invisible Women: The Newsletter under the reoccurring special  "Toilet Queue of the Week" submission segment. Criado Perez proudly beamed as she scrolled down her Twitter to find the humorous titles her Twitter followers honoured her with for her response toThe Old Vic's toilet refurb fiasco.  Upon finding the tweet anointing her "Head of Feminism's Toilet Division", she erupted with laughter (though perhaps more at the absurdity of this plaguing problem than the comic title).
Following a ricochet discussion of everyday bias between the two, the Q&A turned to Criado Perez's new knowledge of the state of female cardiovascular health within medical practice. She explained how doctors are trained to find 'male' symptoms of heart attacks such as chest pain, which women are less likely to exhibit. This leads to misdiagnosis which contributes to it being the number one killer of women in the US and Europe. She stressed to the audience how she felt "fearful and angry" at this, urging us to see the issue as a broader crisis for the future of scientific development if the industry standard continues to predominantly use male cells, rats and patients as the default for trials.
To my surprise, Criado Perez revealed that the abuse she received in the past for her activism (such as the Jane Austen banknote and Millicent Fawcett's statue being erected in Parliament Square campaigns) far outweighed the backlash from her book. She highlighted how rigorous collaborative research made her points bulletproof from prior criticism of more abstract concepts such as the gender pay gap. However, this was not an easy feat. Criado Perez acknowledged the difficulty of writing about examples hidden in our every day which led to a new process of working backwards from gaps of evidence.
On a final note, the Q&A turned to the future implications of her work as a wider discourse and movement. Rather than seeing her work as a definitive guide, she explained her "hope that it spreads on its own" as she acknowledged she can't be an expert in all fields. "Our perception of what 50/50 is [in terms of male and female representation] is in fact 20/80" was a line that remained with me as the audience began to clap and assemble a book signing queue. One can only hope that Invisible Women continues to instigate a movement that pools information and experiences to resolve the crisis of living in a world that perhaps really is designed for men after all.

About the writer: Camila Florencia Rusailh is currently a freelance marketing and publicity assistant working towards completing a BA in English Literature with Drama alongside writing for The Mancunion.